2WDドリフトカー YD-2EXIIS レッドバージョン
DP-YD2EXR / 63,800 yen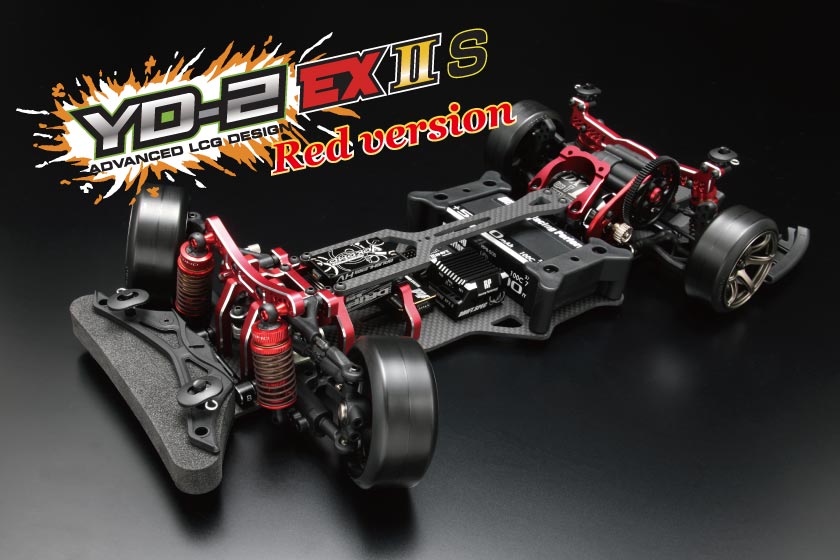 人気のRWD ドリフト マシンの中にあって、常に走りとルックスで最強の名を欲しいままにRWDの最高峰として君臨してきたYD-2 EXⅡに、最新の湾曲型 ラウンドリィ ステアリング ラック、新型ステアリング ブロック、新型リヤ ハブキャリア等を惜しみなく標準搭載。カラーを限定のレッドアルマイトでまとったRWDドリ車の最新最強の進化バージョンが今回登場のYD-2 EXⅡSレッドバージョンです !!
 YD-2 EXⅡSは、低重心化と剛性感の有るシャーシ造がもたらす抜群のトラクション性能と走行安定性に加えて、最上級のステアリング フィールを堪能出来るマシン、ルックスも走りも最上級 !! 路面を選ばず自在のドリフトが楽しめる究極の最先端 RWD ドリフトマシンです。
Our High-end RWD chassis kit the YD-2EX has been further enhanced!
Already proven to have awesome performance it is now available with the latest upgrade parts and new curved slide rack steering system. The special RED Aluminum (limited specification)/Carbon high precision curved slide rack provides a smooth, precise and consistent feeling from steering inputs from the start right through to maximum steering angle.
This is possible with our no bump steer design that allows you to use many castor and kpi options without affecting the steering angle over bumpy surfaces.
主な特徴
■全長:425mm
■全幅:198mm
■ホイールベース:256mm
■二次減速比:1:2.6
■全装備重量:1500g
■新設計 ラウンドリィ スライドラック ステアリングシステム
■4ギヤ リヤ トランスミッション
■密閉式 ギヤボックス
■アルミ製 フロント バルクヘッド
■四輪独立 ダブルウィッシュボーン サスペンション
■高性能 スーパーローフリクション アルミ製 車高調整式 オイルダンパー
■グラファイト製 メインシャーシ&アッパーデッキ
■アルミ製 フロント/リヤ ショックタワー
■49mmボーン リヤ ユニバーサル シャフト
■ナロースクラブ ナックル
■大型 リヤ ディフューザー
Specifications
■Length:425mm
■Width:198mm
■Wheelbase:256mm
■Second reduction rate:1:2.6
■Over all weight:1500g
■NEW!! Curved Slide Rack
■4 Gear rear transmission 
■Sealed gear box
■Aluminum front bulk head 
■4 wheel independent double wishbone suspension 
■SLF aluminum big bore oil dumber
■Carbon graphite main chassis & Upper deck
■Aluminum front/rear shock tower 
■49mm bone rear universal shaft
■Narrow scrub steering block
■Wide/Narrow rear diffuser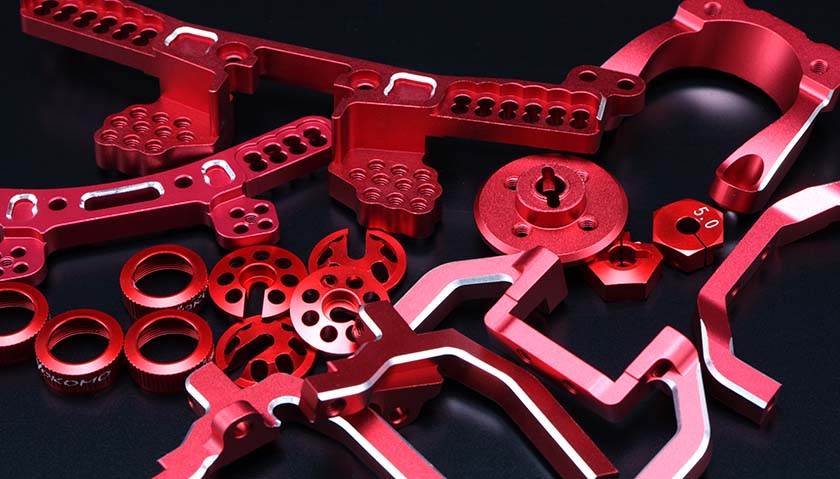 主要アルミパーツには鮮やかなレッドアルマイトカラーを施しました。セッティングパーツのひとつでもあるアルミ製サスマウントはブラックアルマイトで、セットを変更した際にも違和感のない仕上がりとなります。
※レッドアルマイトパーツは完全限定ですので、追加のパーツ販売は行いません。
Passionate red anodized parts are compare to none. Of course it has been sharply finished with bell edge treatment.
* Red anodized parts are perfectly limited specifications that do not sell spare parts.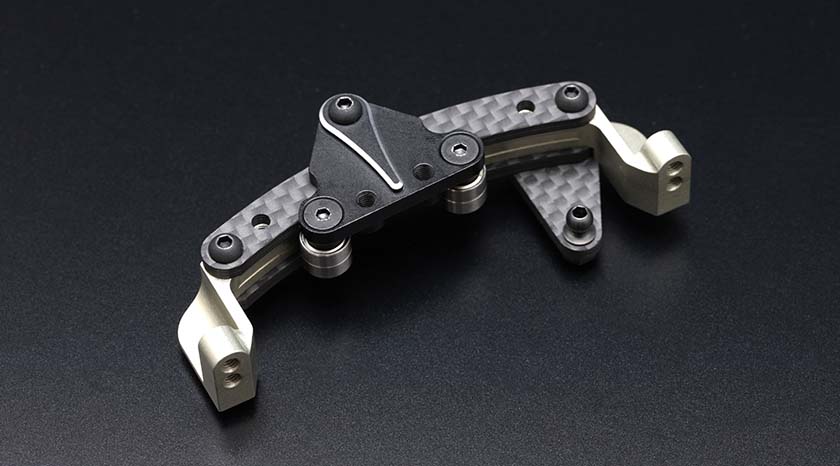 アルミ / カーボン製の高精度湾曲型STスライドラックを標準装備。ステアリングの切り始めから最大舵角まで、スムーズで癖のないステアリング フィーリングを実現します。
A combination of our innovative low center of gravity chassis with industry leading parts, it will be the ultimate RC drift car chassis to demonstrate the best performance on any type of on road surface.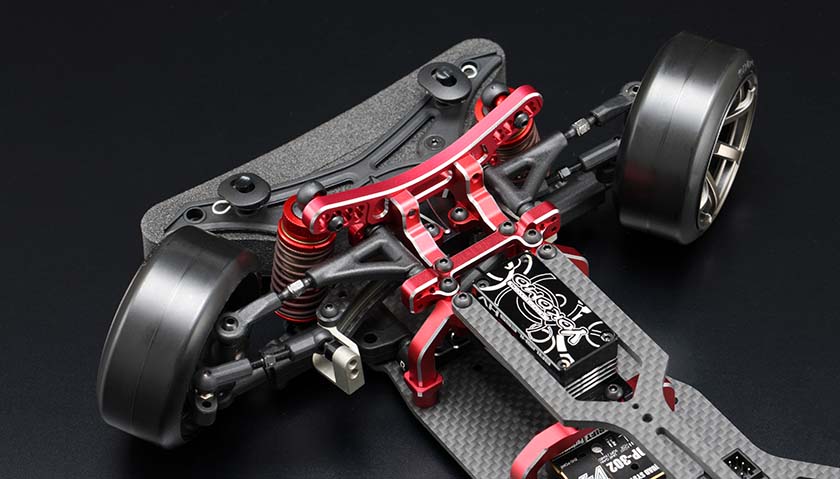 湾曲型STスライドラックが作り出すアッカーマン比で、2WDドリフトに最適はステアリング特性を実現。最大舵角付近での保持力も高まり、深いアングルの走行でも安定感が高まります。
All the important Ackerman ratio produced by the new curved steering slide rack provides the best steering characteristics for 2WD drifting.
Super easy to adjust and tune simply by adding spacers under the ball studs. Enabling you to hold more power through the drift at maximum steering angle, control is increased and the chassis is more stable than ever before. The rack is also mounted to the bulkhead at an angle removing bump steer all the way to full lock, further enhancing the awesome control and stability of the chassis!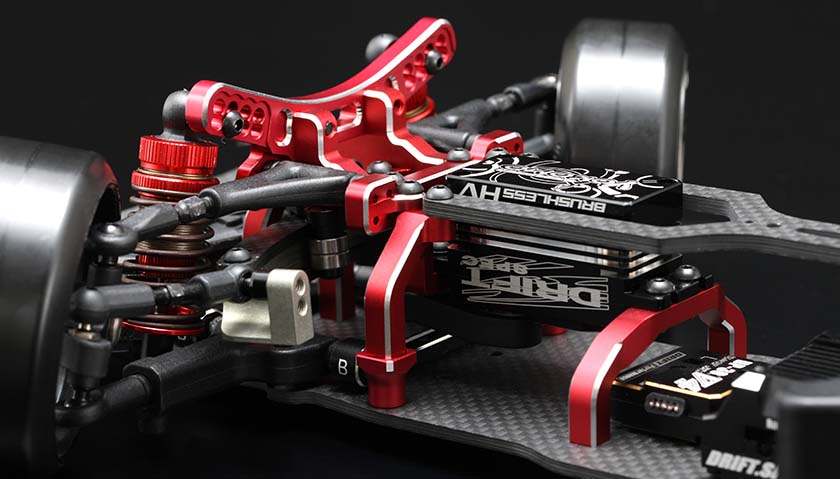 スライドラック本体を前傾マウントすることで、ステアリング作動時の水平面に対するタイロッドの角度変化を抑え、切れ角全域で安定したコーナリング特性となるように仕上げてあります。
The rack is installed with a forward tilt angle in order to reduce the bump steer, which is the tendency of the wheel of a car to steer itself as it moves through the suspension stroke. The body roll and suspension motions will not influence the car to turn more sharply than the driver anticipates.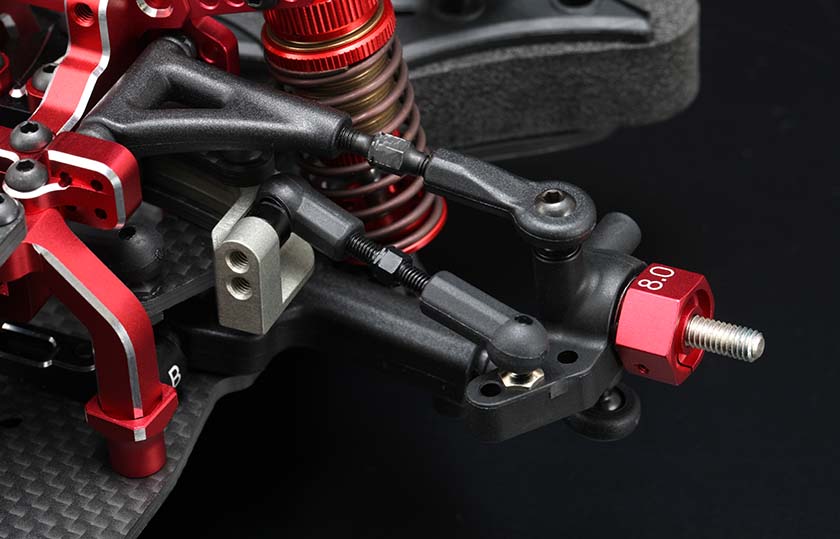 ステアリングブロックも最新の2WDドリフトに最適化。ショートサスアームと併せて、圧倒的な切れ角を実現しています。
The steering knuckles are also optimized for the latest 2WD drift configuration.
This new knuckle geometry combined with the new short suspension arms has achieved our most impressive steering angle yet with no binding up of the front suspension or wheel rub!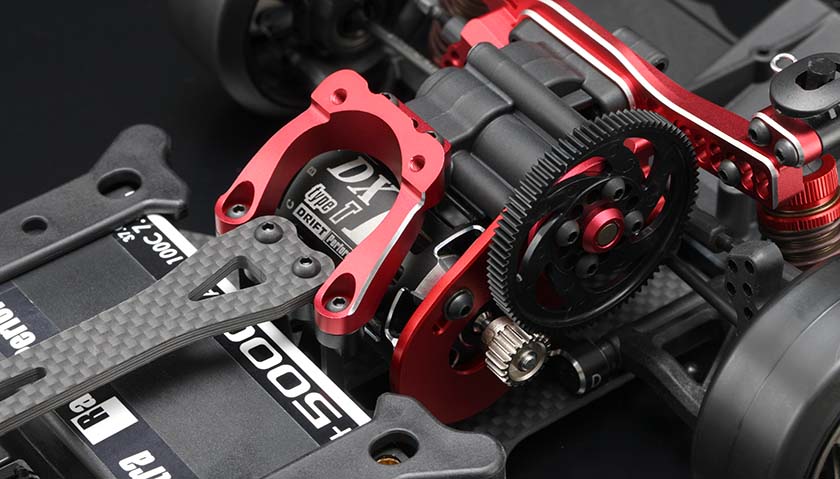 リヤブレースとサポートはアルミ製を採用。ロール/ピッチング剛性を大幅に高めて、シャープな走りを可能にします。
The latest version of the rear shock tower is now aluminum, finished with smoothed beveled edges, not only does it look amazing but the stiffer material enhances throttle inputs. Rolling and pitching are transferred through the suspension geometry more efficiently to achieve an enhanced, sharpened feel.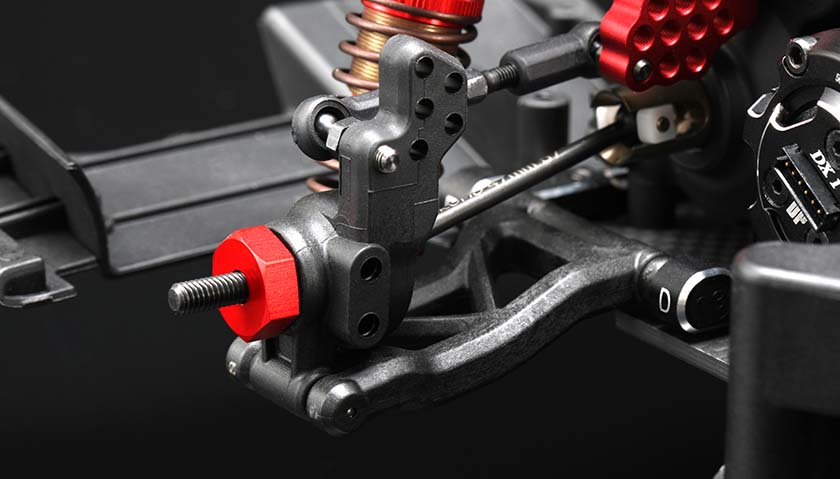 リヤハブはアッパーアームの取り付け位置を増設し、ロールセンターや対地キャンバー変化の設定幅を増やして、積極的にロールを活用するセッティングが可能になっています。
By increasing the mounting position of the upper arm at the rear hub, the roll center and camber change adjustment has been increased. It is now possible to set up the car to positively utilize the roll generated to further enhance grip even on the slipperiest of surfaces.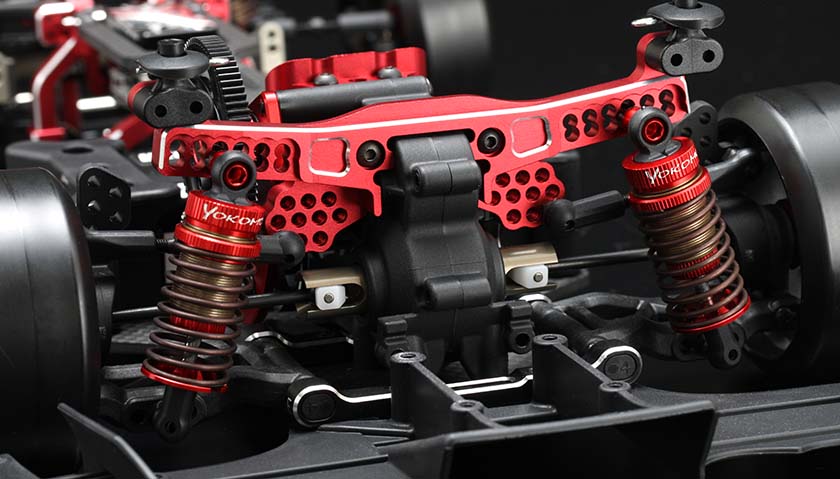 サスマウントは精度の高いアルミ製。樹脂製ブッシュの変更により細かい角度変更も可能です。
The new wider suspension mounts are also made of our high strength aluminum, precision toe angle settings are possible by swapping over the supplied hard resin bushes, allowing many fine toe adjustment options for the front and rear.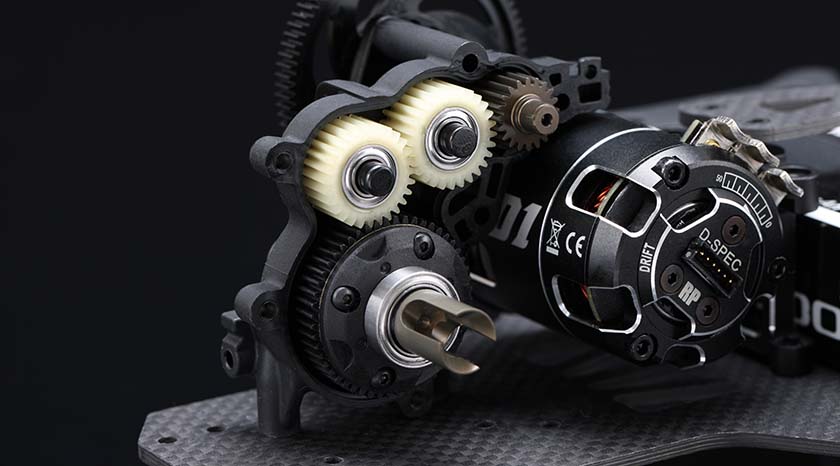 リヤトラクションを高める4ギヤ トランスミッション。ギヤデフのジョイントアクスルはアルミ製を奢り、スロットルレスポンスの向上に貢献しています。
Innovative design of 4-gear transmissions for drift car. Gear differential is a lightweight type by using a plastic bevel gear and aluminum axle. Contributes to the improved throttle response and performance.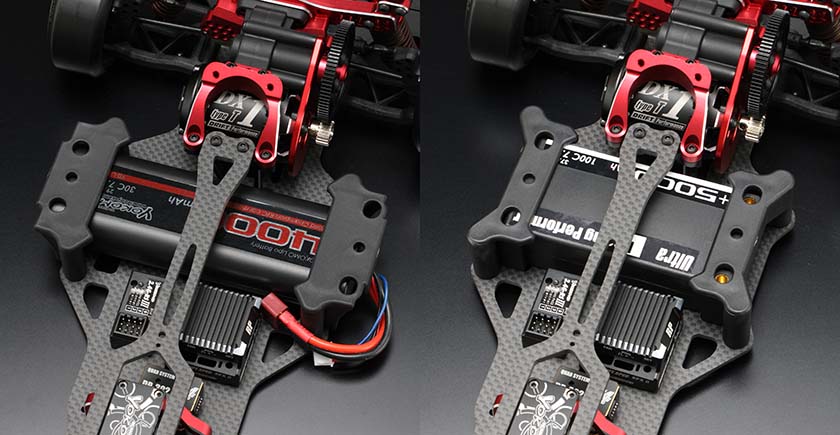 1/10 RCカー用として販売されている、ニッカド・ニッケル水素・リポなど各種、各サイズ全てのバッテリーが搭載可能。 (製品にはスタンダード サイズ用・ショート リポ用の2種、バッテリーホルダーが付属します。)
All size of battery for NiCad, NiMH and LiPo are possible to install on YD-2E series car kit are possible to mount on.
 (2 type of battery holder, Standard and Shot, will be standard bundled )
※写真は組み立て参考例です。プロトタイプのため、実際の製品とは異なることがあります。
The pictures are the assembled samples on prototype. It may changes at the production version without notice.
組み立てキット
走行のために必要なもの:2チャンネルプロポセット(送信機・受信機・スピードコントローラー・サーボ)、ステアリングジャイロ、バッテリー(Li-po 2セル/Ni-cd・Ni-MH6セル)、充電器、1/10サイズ ドリフト用タイヤ・ホイール、モーター、1/10サイズ ドリフト用ボディ、ポリカーボネイト用塗料
The kit does not include body, wheels, tires, motor, batteries ,pinion gear, steering gyro,and other R/C electrics.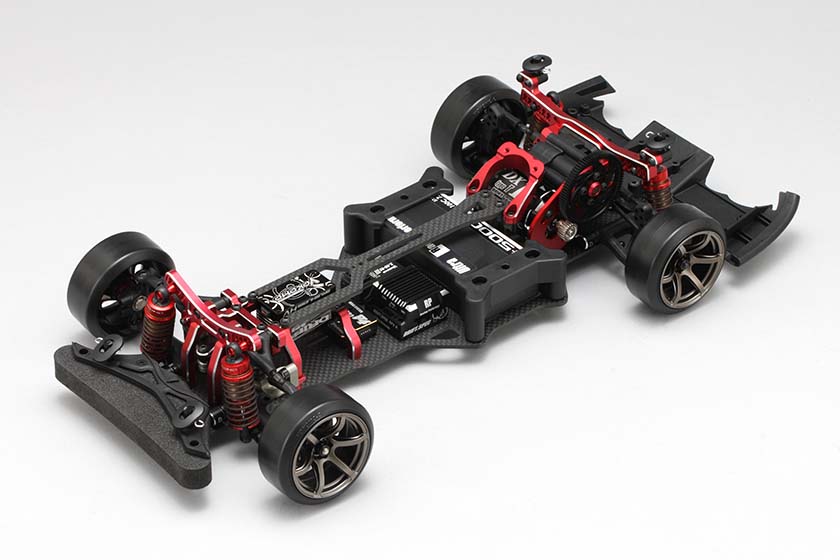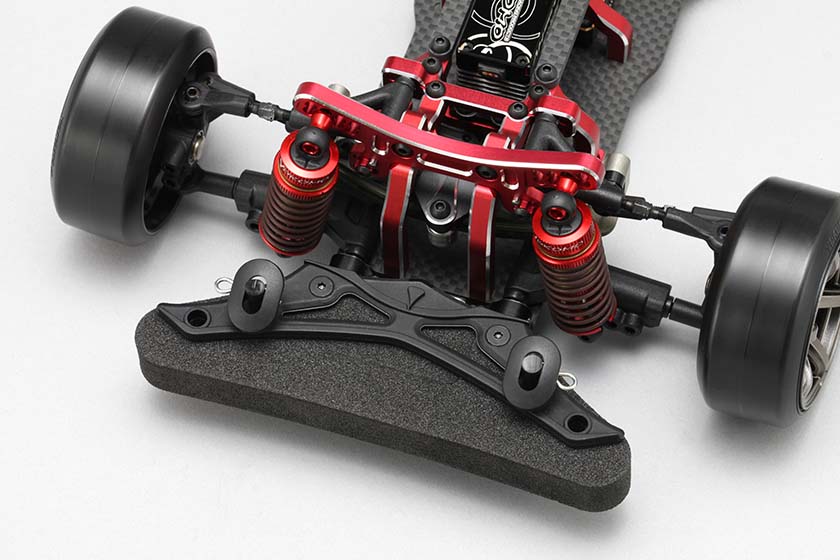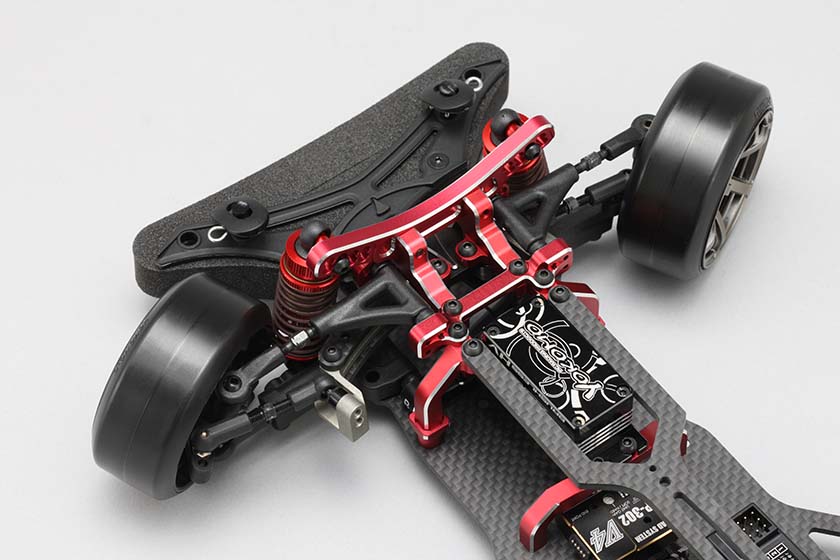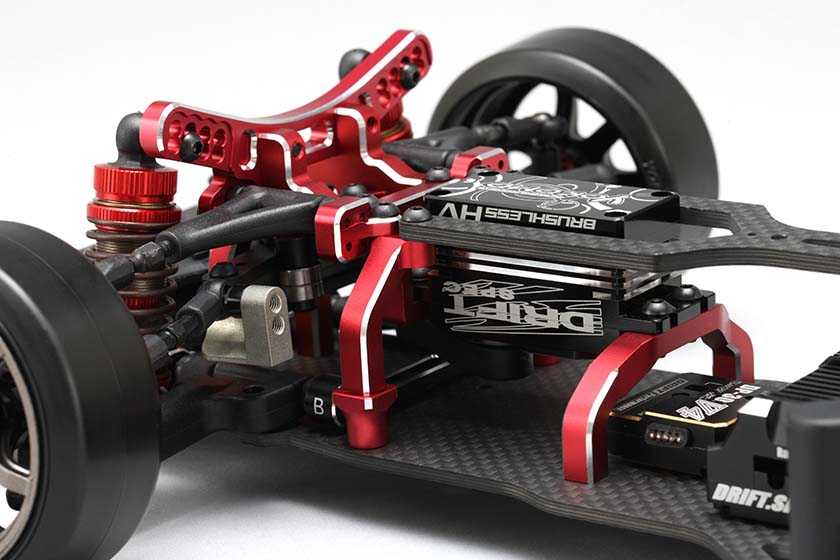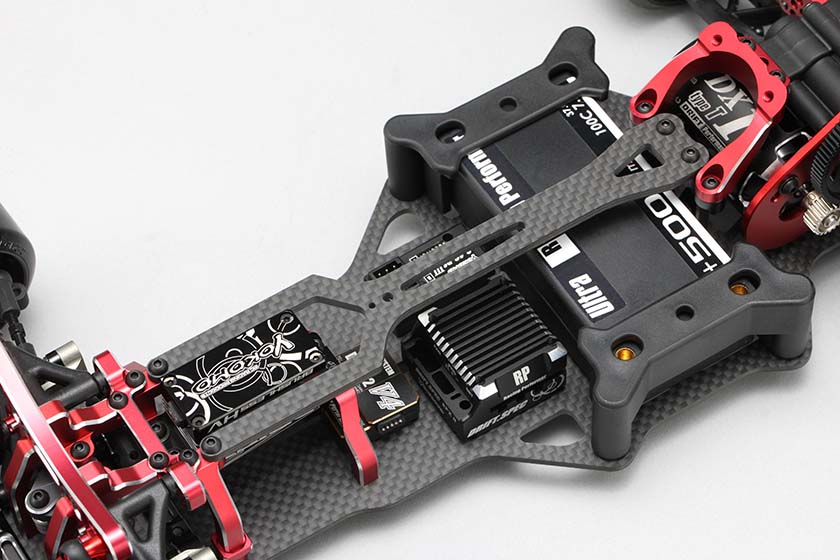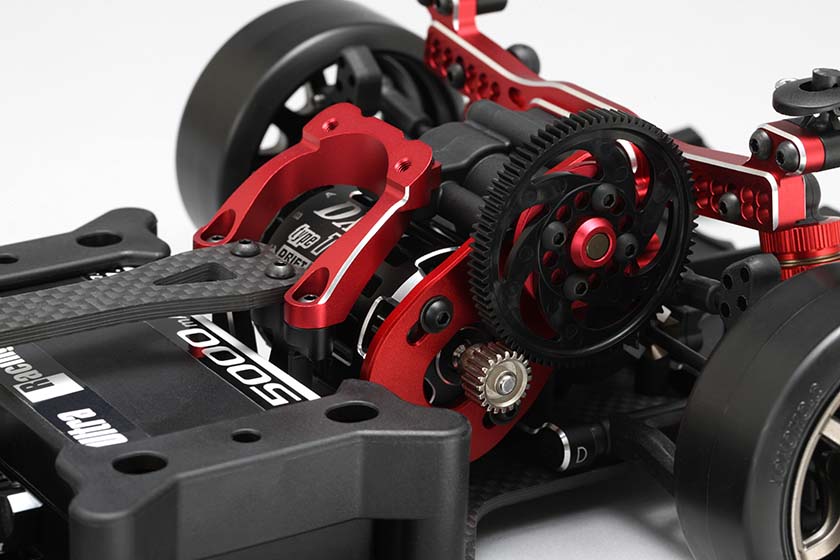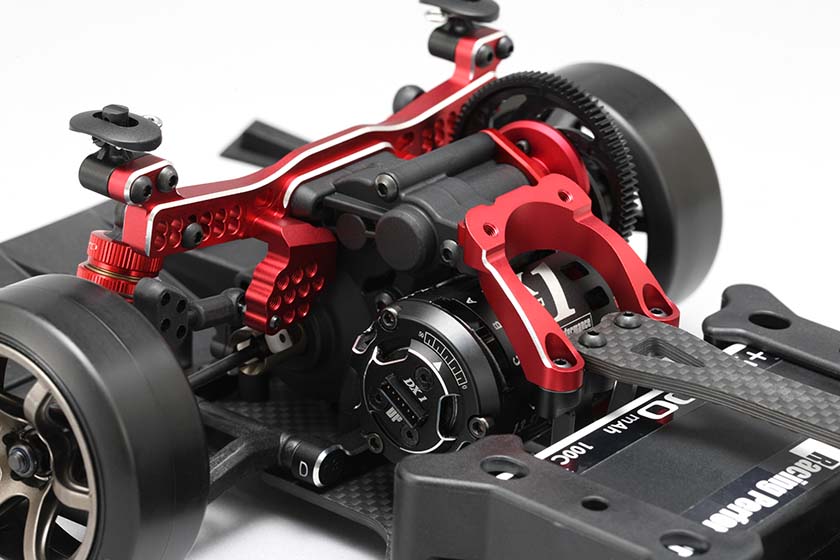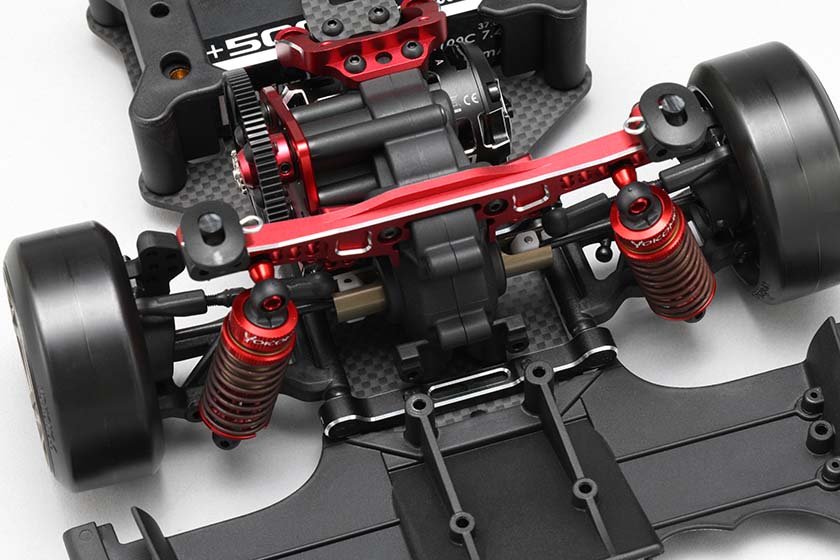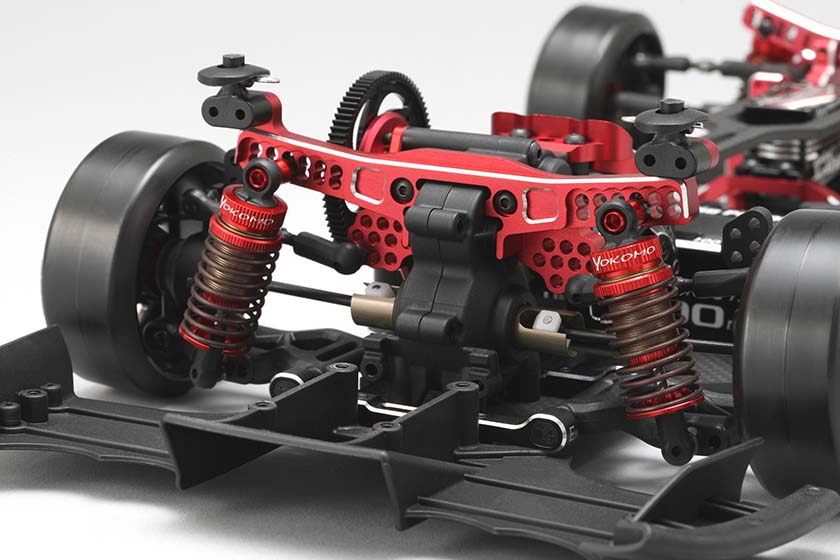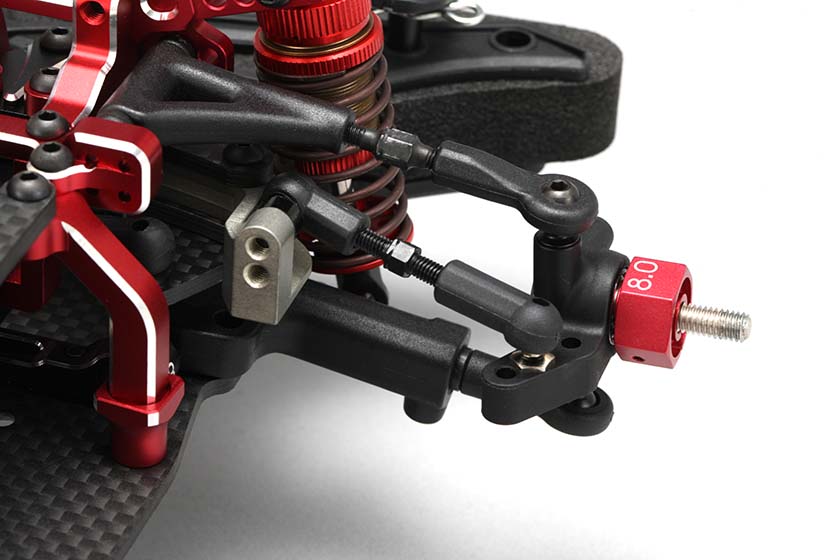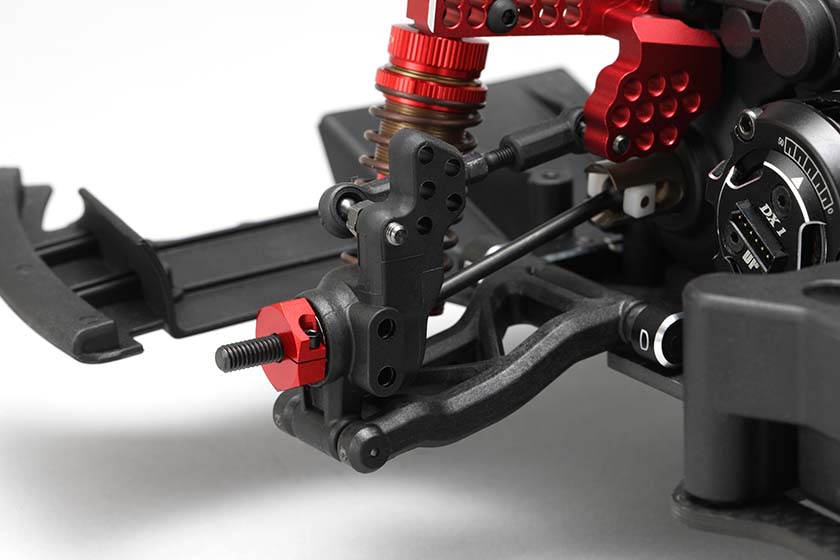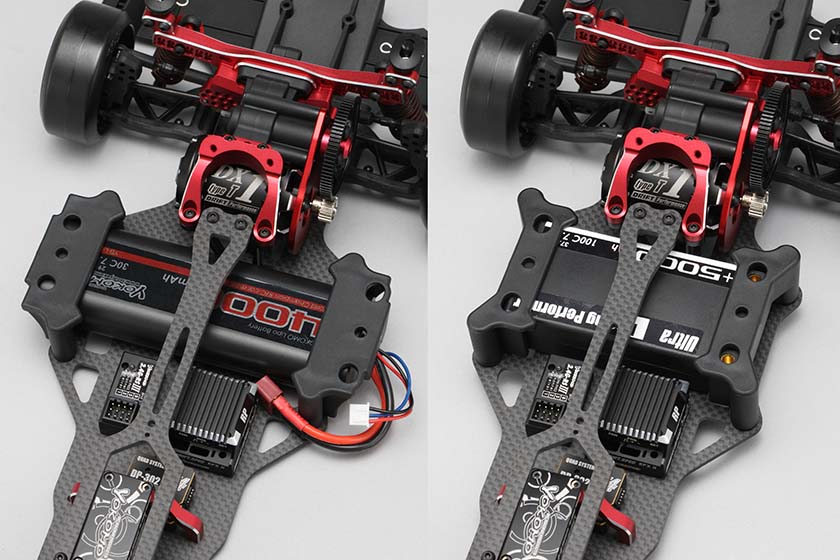 Parts List
▼スピードコントローラー / SPEED CONTROLERS
▼ステアリングサーボ / STEERING SERVOS
▼シャーシパーツ / CHASSIS PARTS
▼駆動系パーツ / DRIVE TRAIN PARTS
▼サスペンションパーツ / SUSPENSION PARTS
▼ボディ / BODIES
▼タイヤ / TIRES
▼ホイール / WHEELS
▼ギヤ / SPUR & PINION GEAR
▼ベアリング / BEARINGS
▼スクリュー / SCREWS
▼デカール / DECALS
▼ケミカル / CHEMICALS
▼工具 / TOOLS
▼収納ケース / BAG&BOX
▼その他 / OTHER