YD-2S RWDドリフト 組立シャーシキット
DP-YD2S / 19,800 yen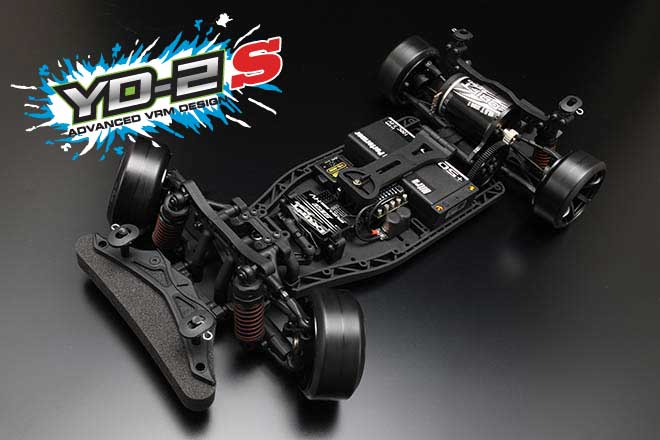 ハイマウントモーターでリヤトラクションが高く、Pタイルやコンクリートなどの低グリップ路面で使用率がさらに高まっているYD-2 Sのラインナップに、扱いやすさに優れるワンピース樹脂シャーシ仕様が新登場!
 YD-2シリーズオリジナルのRWDドリフト専用フロント ステアリングシステムと、ハイマウント モーター仕様の4ギヤ トランスミッションを、振動吸収や適度なねじれ剛性でしなやかなフィーリングを導き出すワンピース メインシャーシに搭載。フロントタイヤの引っ掛かりを抑え、実車のようなしっとりとした走りを引き出します。ハイマウントモーターは特に低グリップ路面に有効なロールを引き出し、滑りやすい状況でも安定感の高い走行が可能です。車高調整式オイルショックやショックタワーも樹脂製とすることでリーズナブルな価格も実現しました。
主な特徴
■全長:425mm
■全幅:198mm
■ホイールベース:256mm
■二次減速比:1:2.6
■全装備重量:1500g
■ハイマウント モーター 
■4ギヤ リヤ トランスミッション
■新設計 密閉式 ギヤボックス
■四輪独立 ダブルウィッシュボーン サスペンション
■高性能 スーパーローフリクション アルミ製 車高調整式 オイルダンパー
■樹脂製 メインシャーシ
■モーター位置3段階調整式 アルミ製 モーターマウント プレート
■RWD専用 ハイアングル ステアリング システム
■49mmボーン リヤ ユニバーサル シャフト
■ナロースクラブ ナックル
■大型 リヤ ディフューザー
 Specifications
■Length:425mm
■Width:198mm
■Wheelbase:256mm
■Second reduction rate:1:2.6
■Over all weight:1500g
■High mount motor 
■4 Gear rear transmission 
■New designed, Sealed gear box
■4 wheel independent double wishbone suspension 
■SLF aluminum big bore oil dumber
■Plastic main chassis 
■Adjustable aluminum motor mount system
■RWD high angle steering system  
■49mm bone rear universal shaft
■Narrow scrub steering block
■Wide/Narrow rear diffuser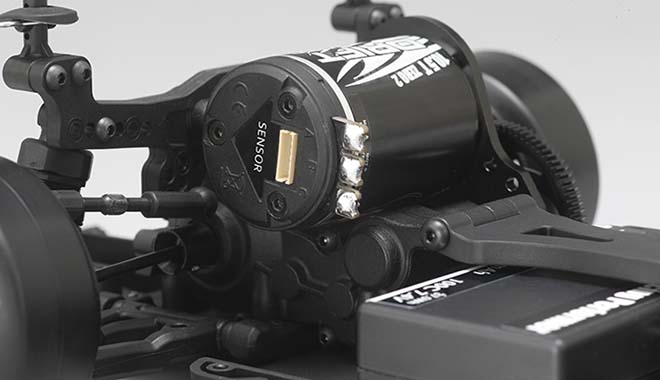 YD-2 S PLUSの最大の特徴はハイマウントされたモーター。これまでのYD-2シリーズよりもリヤの重心位置を上げることで、ロールを誘発してリヤトラクションを高めます。しかしただ高い位置にモーターを搭載しただけではコーナーの出口や切り返しで運動性能が低下し、加速のタイミングが遅れたり、操作しにくいマシンになることも。そこでこの"YD-2 S"ではギヤボックスを完全専用新設計し、必要以上のモーターのハイマウントを避け、モーター位置も前後の3ヶ所から選択可能にすることで、運動性能を保ちながらリヤトラクションを確保することに成功しました。
The highlight of YD-2S is the high mount motor layout as a results of new gear box development.  Conventional high mount motor layout on YD-2 has been driven by third party conversions, however those are too much height since they just re-layout the motor position by adding high priced carbon made parts with ridiculous appearance.
Too much higher role center delivered the disadvantages on performance as well, such as slow acceleration at the corner exit, and it is not easy to drive at the competition track.  YD-2S enable to select 3 kind of motor positions in order to suits for the best role center to deliver  the best rear traction in several kind of slippery environments.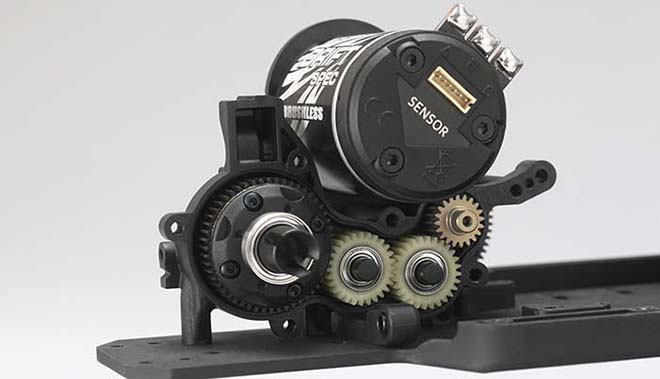 スパーギヤから、モーター下側を抜けてリヤに駆動を伝える専用ギヤボックス内部。4ギヤトランスミッションも加速時の回転トルクでリヤトラクションが高まる構造なので、更に低ミュー路面に適しています。リヤデファレンシャルには4ピニオンのギヤデフを搭載。
Fully new designed 4 transmission could squeeze into the bottom of motor, and it is the type to increase the rear traction as rotational torque goes up, supreme to low friction surface track. Rear differential has 4 pinion gear.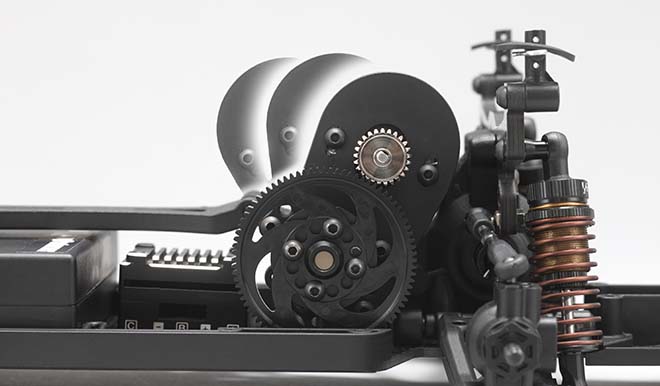 モーターマウント プレートの固定位置を変更することで、モーターを前後3ヶ所の位置から選択可能です。これにより重量バランスの微調整ができ、走行する路面に合わせて最適なバランスを獲得することが可能です。
Since the motor layout can be changed by selecting from 3 rotate positon at motor mount plate, the weight balance of car will be also adjustable to find out the best setting for keeping supreme angle and speed in any kind of slippery surface condition.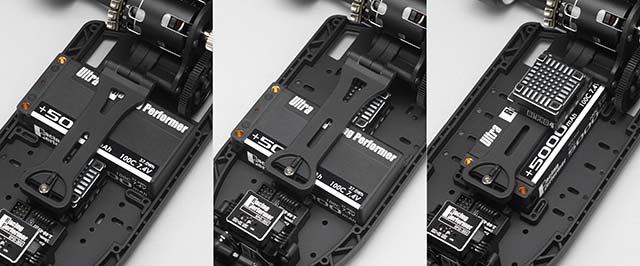 対応バッテリーはショートLi-poバッテリーのみとなりますが、バッテリーストッパーの固定位置により様々なバッテリー搭載スタイルを選択することができます。バッテリー横置き、縦置きに加え、横置きの場合は前後に3ヶ所の位置から選択でき、重量バランスの変更で前後のトラクションなどを調整可能です。
The battery is limited to Shorty LiPo battery, but the mounting layout will have 4 different positions by selecting battery stopper location on the chassis.  The layout will be Vertical, Horizontal Front/Mid/Rear in order to complete the fine tuning on weight balance and forward/backward traction.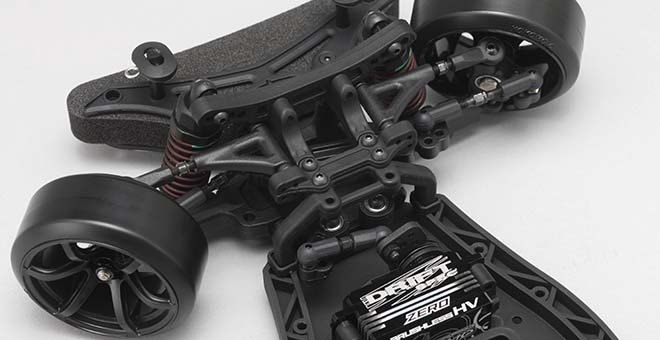 ステアリング周りは従来のYD-2シリーズと同様。すでに定評のあるアッカーマン比で、フロントの走りを引き出します。もちろんアルミ製のオプションパーツなども共通して使用することが可能です。
Steering around are the same as conventional YD-2 series.  The best Ackerman rate fill deliver the front driven running. Aluminum option parts are the co-usable among YD-2 series.
※写真は組み立て参考例です。プロトタイプのため、実際の製品とは異なることがあります。
The pictures are the assembled samples on prototype. It may changes at the production version without notice.
組み立てキット
走行のために必要なもの:2チャンネルプロポセット(送信機・受信機・スピードコントローラー・サーボ)、バッテリー(Li-po 2セル・角型ショートサイズ)、充電器、1/10サイズ ドリフト用タイヤ・ホイール、モーター、ボディ(1/10サイズ ドリフト用)、ポリカーボネイト用塗料
The kit does not include body, wheels, tires, motor, batteries ,pinion gear, and other R/C electrics.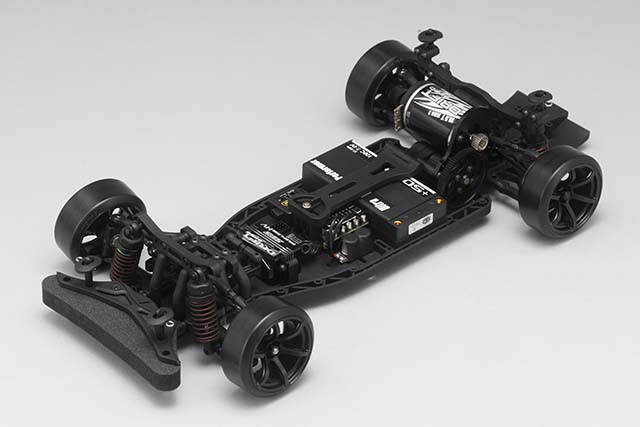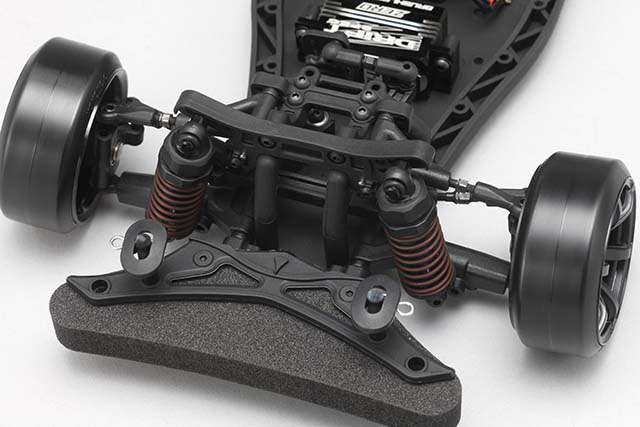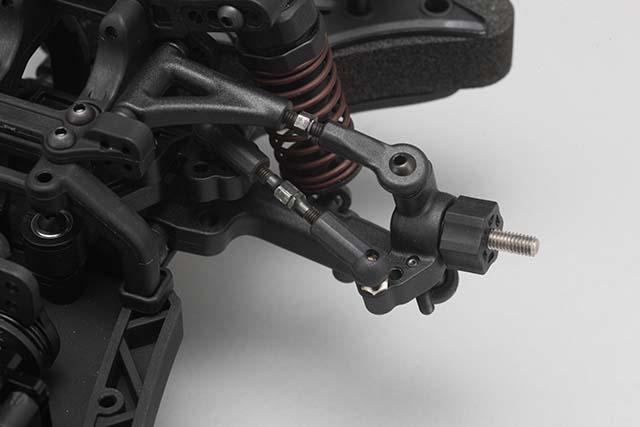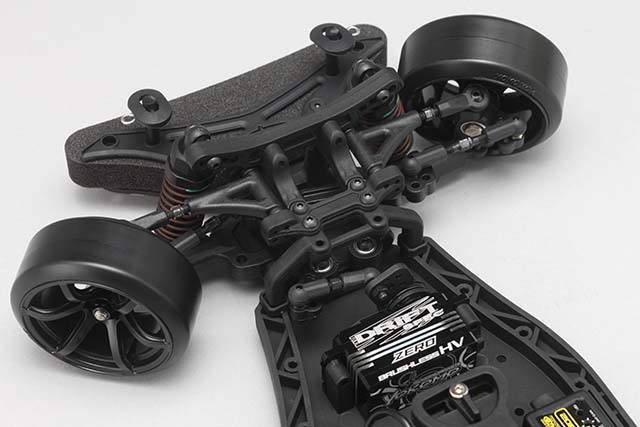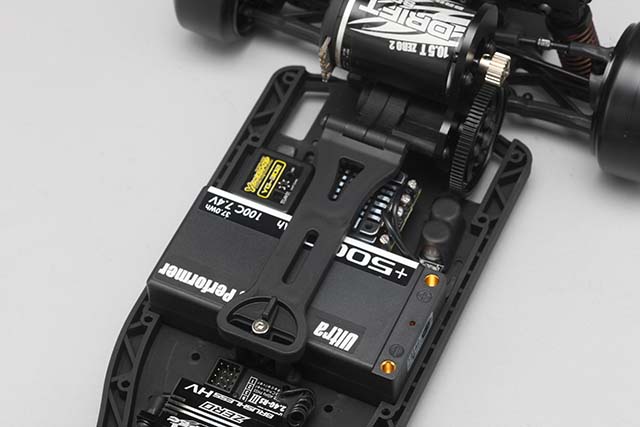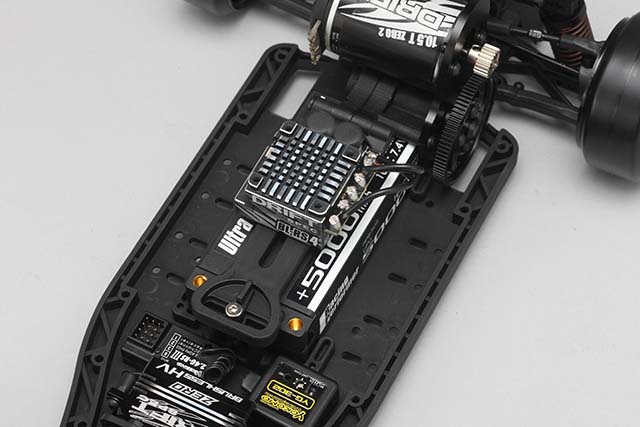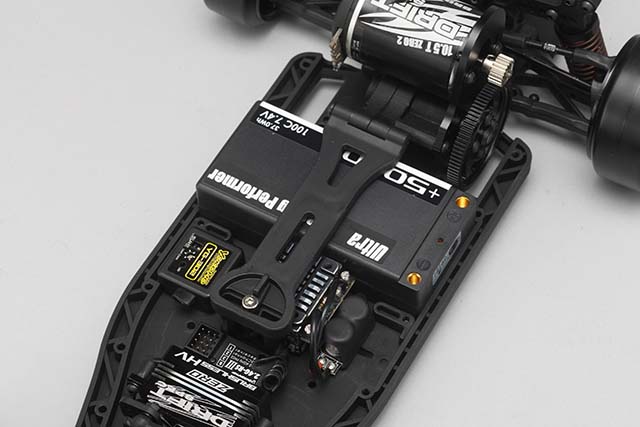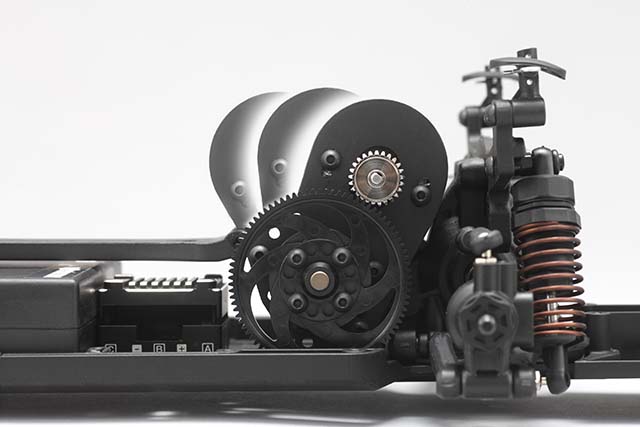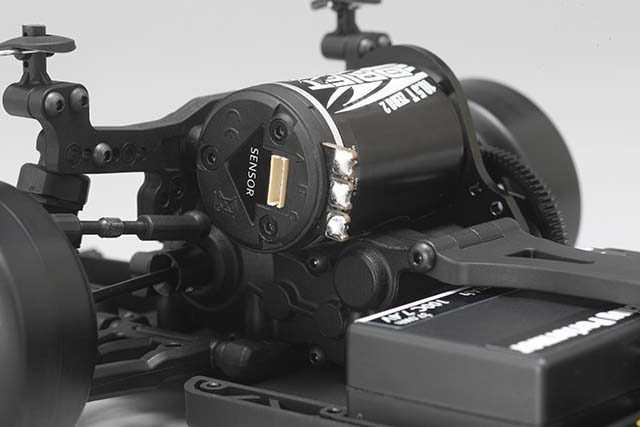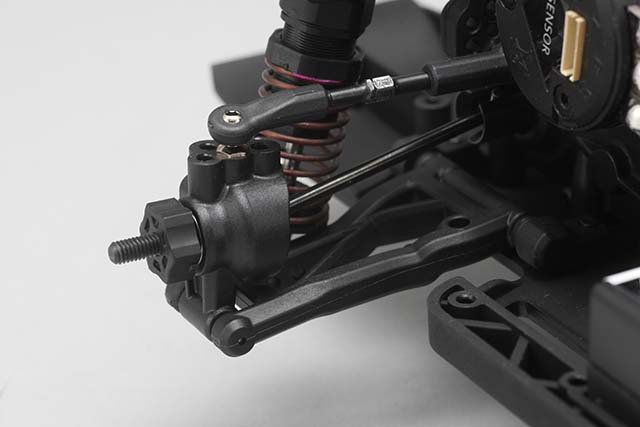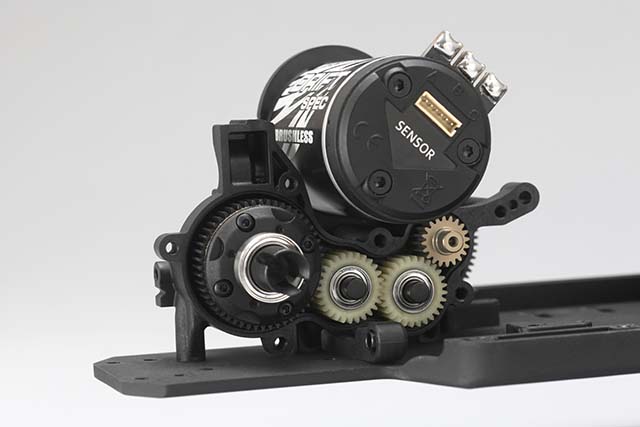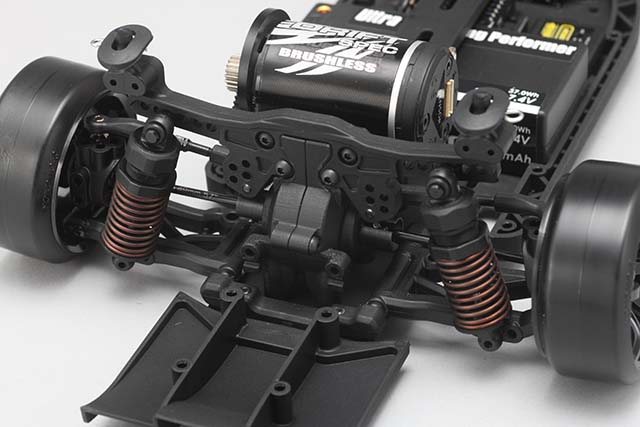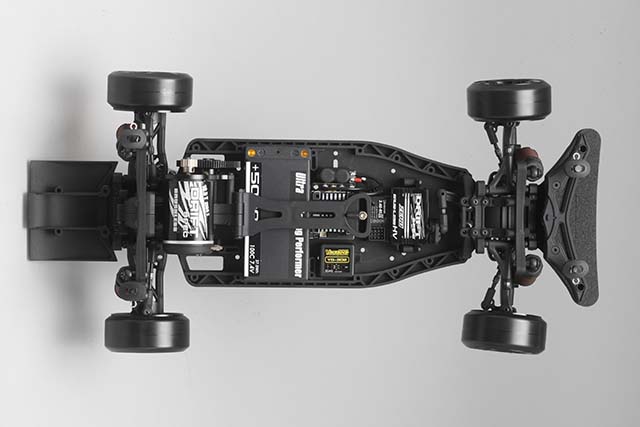 Manual & Setting
Set-up Sheet
Track
Driver
Date
Download
Running set (別売り/Sold separately)
●YD-2Sは下記のランニングセットを別途お買い求めいただき、組み合わせて頂くことで走行可能になります。
●YD-2S can be run by purchasing the following running set separately and RTR combining it.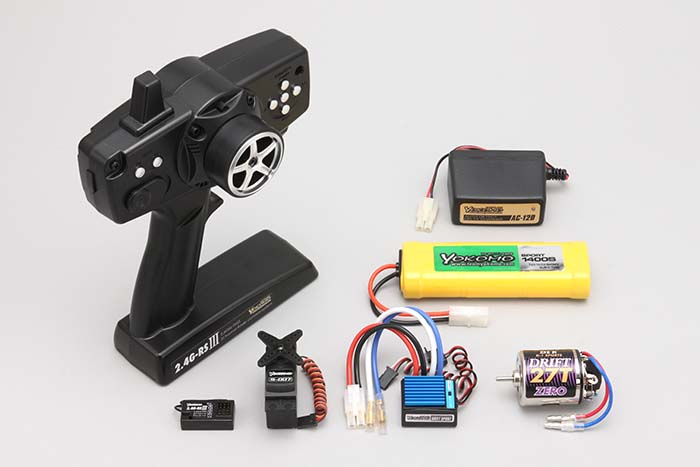 YOKOMO 2.4G-RSIII running set for drift package with high speed servo DP-RSG3H ●16,800
A 2.4GHz running set for drift packages has become a new 2.4 G-RSIII specification and it is new! By purchasing it together with the drift package of the popular series, it becomes a package where the necessary things are packed. With the new 2.4G-RSIII transceiver, the response is dramatically improved than before, and the operation as desired that accurately reflects the driver's operation became possible. Steering dual rate, end point, reverse, etc. can also be set, S-007 high speed digital servo is included in steering servo. It is possible to freely control fine movements of steering which is important for quick turning back of drift and driving.
Main  features
■ Reliable FHSS · 2.4GHz transmission / reception system adopted
■ Ultra compact receiver
■ Steering / throttle trim
■ Steering / throttle end point adjustment
■ Steering / Throttle Reverse function
■ Steering dual rate
■ 3 channel transceiver
■ S-007 High Speed ​​Digital Servo Specification
■ Supplied SCR-DS speed controller supports brush motor 12 turns
■ 27 turn motor optimum for drift is included
■ Delta Peak Detection AC 100 V Quick Charger
set content
1.2.4G-RSIII transmitter (2.4Ghz FHSS system)
2. 2.4G-RSIII receiver (2.4Ghz 3 channel)
3.S-007 High Speed ​​Digital Steering Servo
4.SCR-DS high power type speed controller (brush motor 12 turn correspondence)
5.27 turn motor for YM-D1R drift
6.YB-14SP 1400 mAh NiCd battery
7.AC-12D Delta Peak Quick Charger
※ In order to use, alkaline batteries for transmitter (AA size × 4 pieces) are required separately.
※Steering gyro device is sold separately, so please purchase separately.
Parts List
▼スピードコントローラー / SPEED CONTROLERS
▼ステアリングサーボ / STEERING SERVOS
▼シャーシパーツ / CHASSIS PARTS
▼駆動系パーツ / DRIVE TRAIN PARTS
▼サスペンションパーツ / SUSPENSION PARTS
▼ボディ / BODIES
▼タイヤ / TIRES
▼ホイール / WHEELS
▼ギヤ / SPUR & PINION GEAR
▼ベアリング / BEARINGS
▼スクリュー / SCREWS
▼デカール / DECALS
▼ケミカル / CHEMICALS
▼工具 / TOOLS
▼収納ケース / BAG&BOX
▼その他 / OTHER