YD-4 MR 4WD コンペティションドリフト シャーシキット
DP-YD4MR / 41,000 yen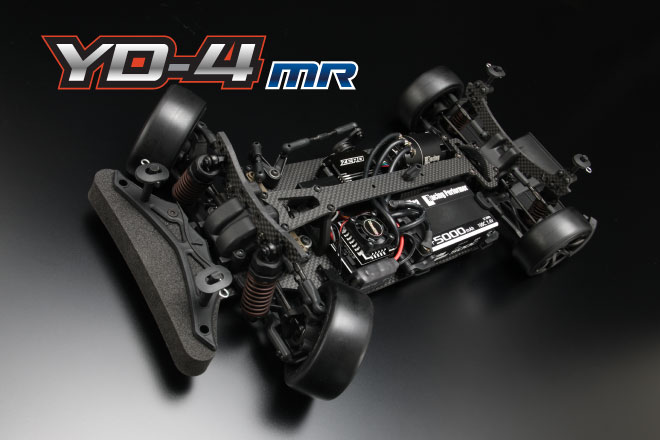 走破性と安定感の高さを武器に、各地のイベントで上位を独占するYD-4。その戦闘力をさらにアグレッシブにモデファイしたニューマシン"YD-4 MR"が新登場します。
 シックなマット調カーボン材を使用したシャーシ/アッパーデッキ/ショックタワーをベースに、高級感あふれる美しいディテールを形成。モーターをリヤ ミッドシップに搭載し、重心位置を従来よりもやや後方へ移動することで、リヤを振り出した際のダイナミックな迫力を演出します。入念なテストから導き出された重量バランスでコーナーリング中のドリフトの戻りも抑え、より深いアングルでの走行が可能になります。
 安定感の高さに優れる標準のYD-4に、よりアグレッシブな特性のYD-4 MRが加わることで、幅広いドリフトスタイルをカバーするラインナップの完成です!
YD-4 that monopolizes the top in events of various places with weapons of high running quality and stability. A new machine "YD-4 MR" which newly modulates its fighting power more aggressively appears.
Based on chassis / upper deck / shock tower using chic matte-like carbon material, beautiful details full of luxury are formed. By installing the motor in the rear midship and moving the center of gravity position slightly backward than before, it will produce a dynamic force when launching the rear. The weight balance derived from elaborate testing suppresses the return of drift during cornering, making it possible to run at a deeper angle.
By adding YD-4 MR of more aggressive characteristics to the standard YD-4 excellent in stability sense of stability, the lineup covering a wide range of drift style is completed!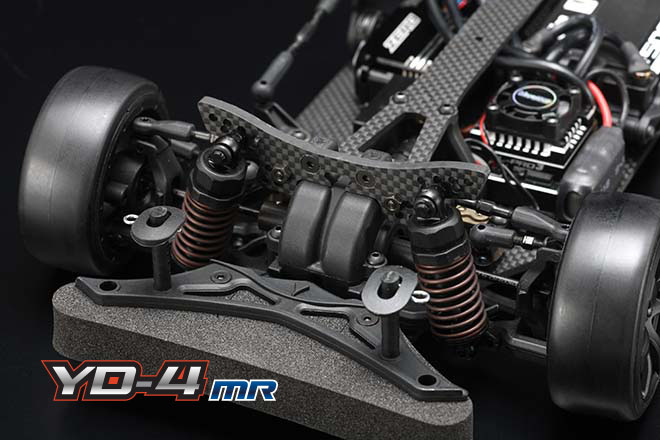 前後ショックは樹脂製シリンダーの車高調整式を採用。4mm厚の高剛性カーボンステーで保持し、確実な作動で路面からの衝撃を吸収する。また、スプリングはドリフトに最適な多重巻ロングスプリングを装着し、トラクションを高めるとともに、重量感のある動作でリアルな走行を可能にします。
The front and rear shock adopts the height adjustment formula of resin cylinder. It is held with a high rigidity carbon stay of 4 mm thick, absorbing shock from the road surface with reliable operation. In addition, springs are fitted with multi-winding long springs that are ideal for drift, increasing traction and enabling realistic driving with a sense of weight.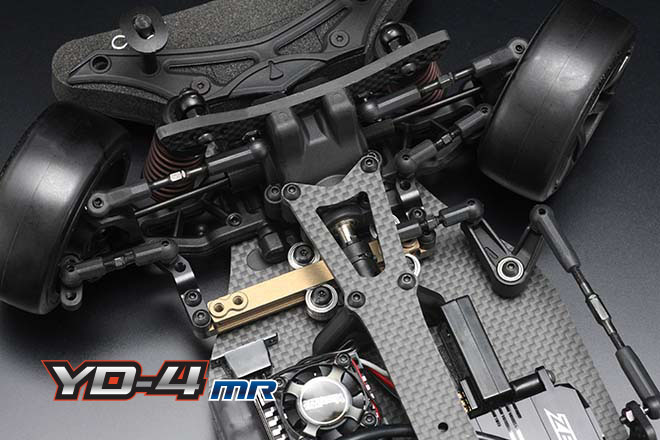 アルミ製のステアリングラックには潤滑ハードコート処理を施し、滑らかで確実な作動を実現します。もちろんスライドラックが最適なアッカーマン比を描き出し、コンペティションドリフトに必須とも言えるフロントの"走り"を引き出します。
Aluminum steering rack is subjected to lubricating hard coat treatment to achieve smooth and reliable operation. Of course the slide rack draws out the optimum Ackermann ratio and draws out the "run" of the front which can be said as essential for the competition drift.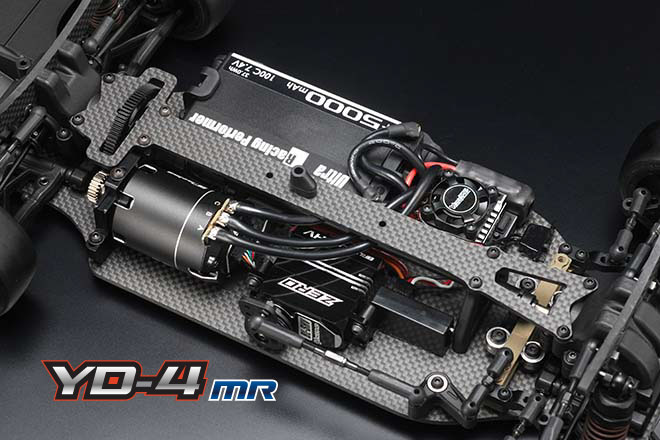 モーターをリヤ ミッドシップに搭載し、迫力のあるリヤの振り出しを演出します。重量物を集中化することでリヤを振り出した後の収まりも良く、クイックでダイナミックでありながら、安定感のあるドリフトアングルで走行することが可能です。
The motor is mounted on the rear midship, and a powerful rear stick out is produced. Fitting after rearing the rear by concentrating the heavy load is also good, it is possible to run with a drift angle with stability, while being quick and dynamic.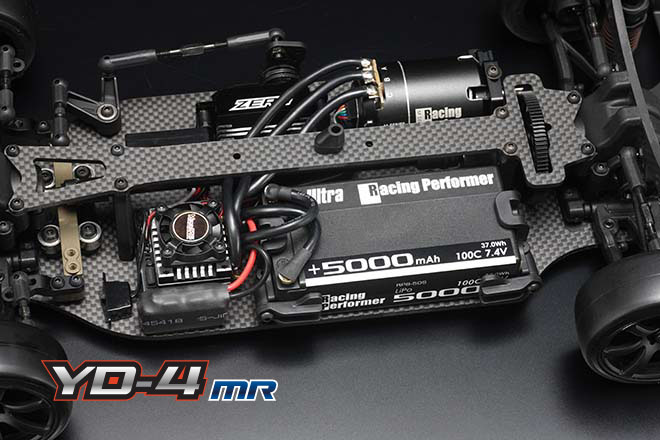 ショートサイズバッテリーは前後に移動することが可能で、ドライバー好みの重量配分をお選びいただけます。ショートサイズLi-poバッテリーだけでなく、バッテリーホルダーの取り付け位置の変更でフルサイズバッテリーにも対応。メインシャーシとアッパーデッキ、前後ショックタワーは高級感あふれる艶消しのカーボン材を使用し、シックなルックスの仕上がりとなっています。
The short size battery can move back and forth, you can choose the weight distribution of the driver preference. Not only short-sized Li-po battery, but also supports full-size battery by changing the mounting position of the battery holder. The main chassis and upper deck, front and rear shock towers are made of a matte carbon material overflowing with a sense of quality, and it has become a chic looks finish.
主な特徴 Specifications
● 全長: 434mm (ディフューザー含む)
● 全幅: 199mm
● ホイールベース: 255mm (調整可能)
● 二次減速比: 2.35:1
● 全装備重量: 1500g
■高剛性マット調 カーボン製 ダブルデッキシャーシ
■高い運動性能を発揮する低重心構造
■密閉式ギヤボックス シャフトドライブ4WD
■ダイナミックな走行を可能にするリヤ ミッドシップ モーター仕様
■重量物を集中化させることで操作性が向上
■剛性の高い前後Hアーム仕様ながら圧倒的な切れ角を実現
■切れ角とアッカーマン比を最適化するアルミ製 スライドラック ステアリングシステム
■フロント キングピンアングル付  ナロースクラブ ナックル
■フロント ワンウェイ
■FCD×1.3倍 リヤ増速 ソリッドアクスル
■高剛性4mm厚 マット調カーボン製 前後ショックタワー
■スタンダード、ショートサイズバッテリー両対応
Main features Specifications
●Total length: 434 mm (Including diffuser)
●Full width: 199 mm
●Wheel base: 255 mm (adjustable)
●Secondary reduction ratio: 2.35: 1
●All equipped weight: 1500 g
■ High Rigidity Matte Carbon Double Deck Chassis
■ Low center of gravity structure that exerts high exercise performance
■ Sealed gearbox shaft drive 4WD
■ Rear Mid Ship Motor Specification for Enabling Dynamic Driving
■ Improved operability by concentrating heavy objects
■ High rigidity front and rear H arm specifications while achieving overwhelming cutting angle
■ Aluminum slide rack steering system optimizing cutting angle and Ackermann ratio
■ Narrow scrub knuckle with front kingpin angle
■ Front One Way
■ FCD × 1.3 times Rear Accelerated Solid Axle
■ High rigidity 4mm thick matte carbon made front and rear shock towers
■ Standard, short size battery compatible
※写真は組み立て参考例です。
※ The picture is an assembled reference example.
組み立てキット
走行のために必要なもの:2チャンネルプロポセット(送信機・受信機・スピードコントローラー・サーボ)、バッテリー(Li-po 2セル)、充電器、タイヤ、ホイール、モーター、ボディ(1/10サイズ ドリフト用)、ポリカーボネイト用塗料
Assembly kit
Things necessary for traveling: 2 channel propo set (transmitter, receiver, speed controller, servo), battery (Li-po 2 cell), charger, tire, wheel, motor, body, polycarbonate paint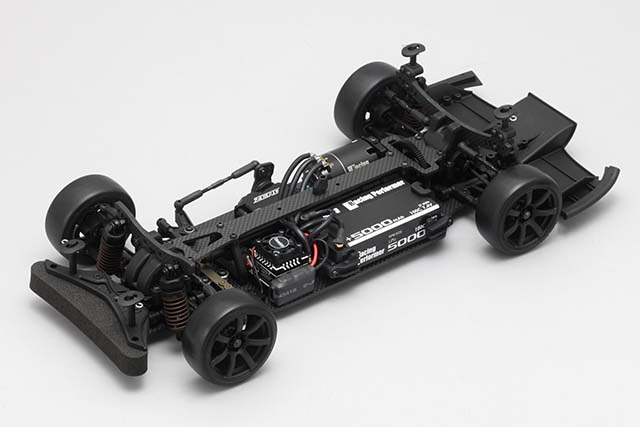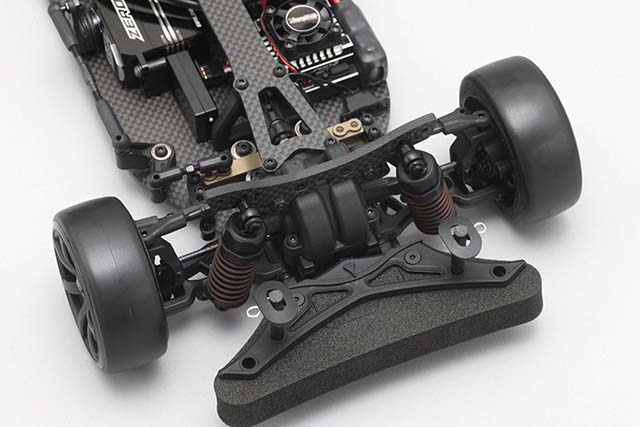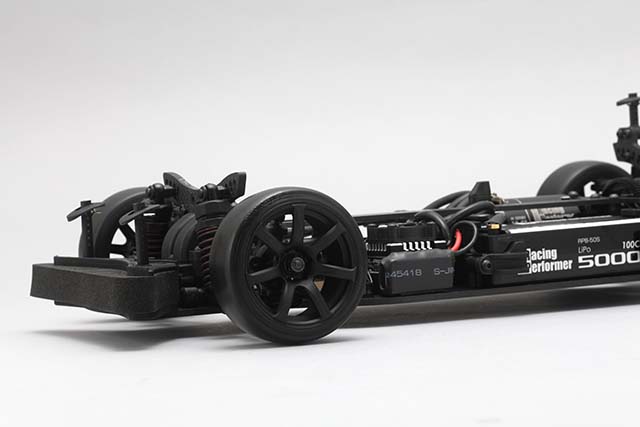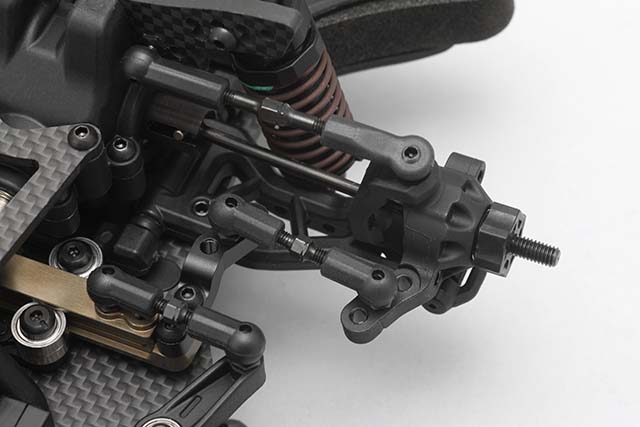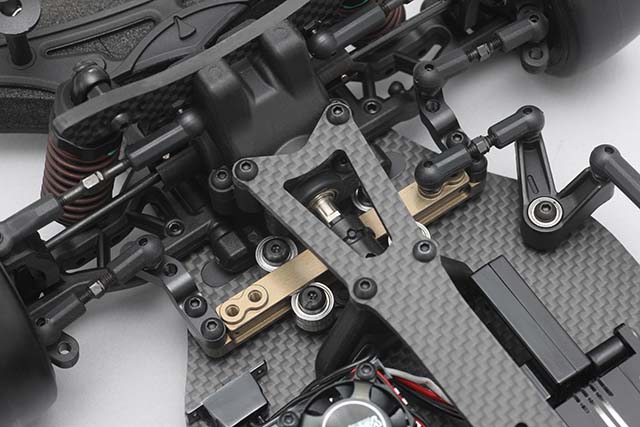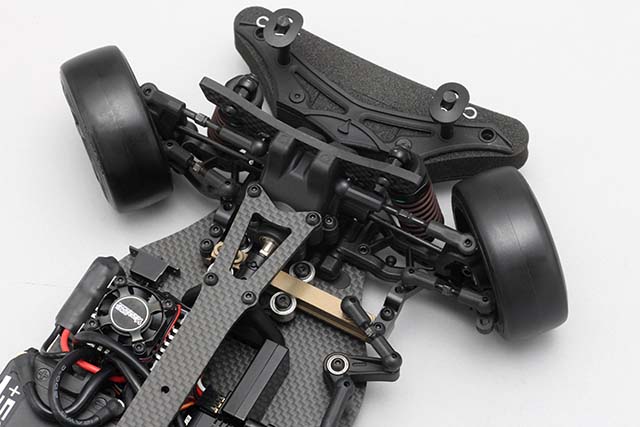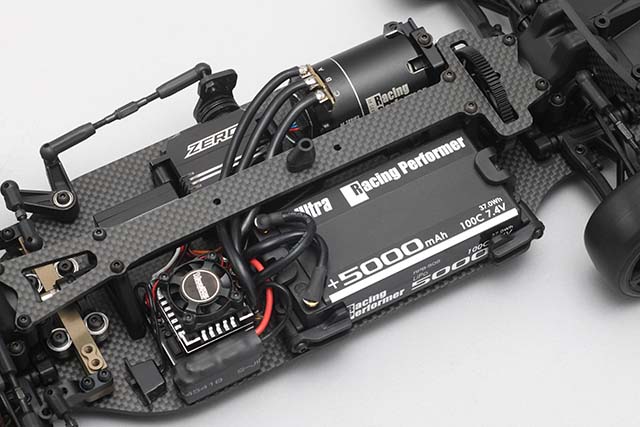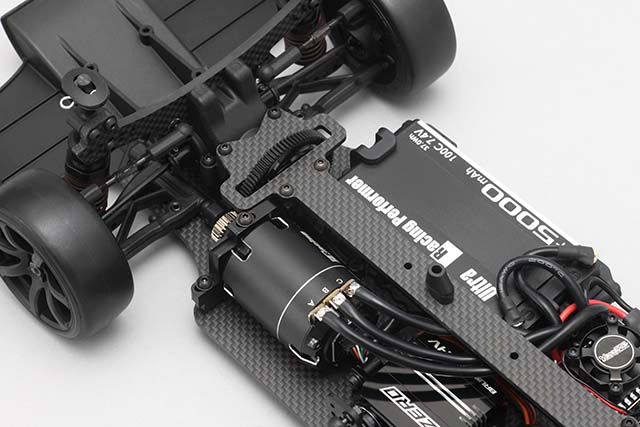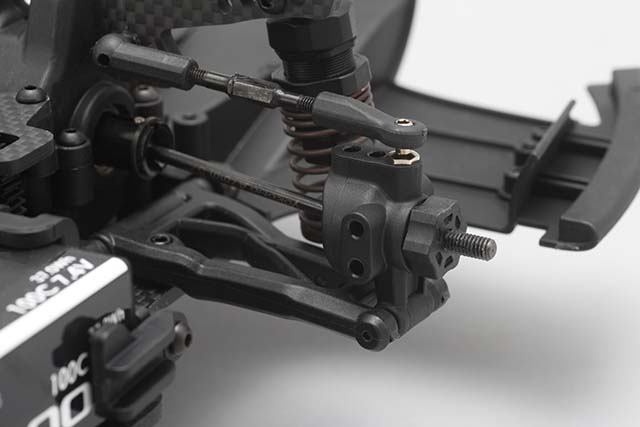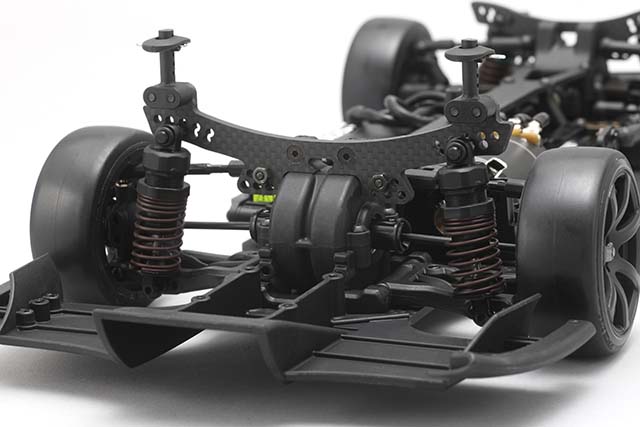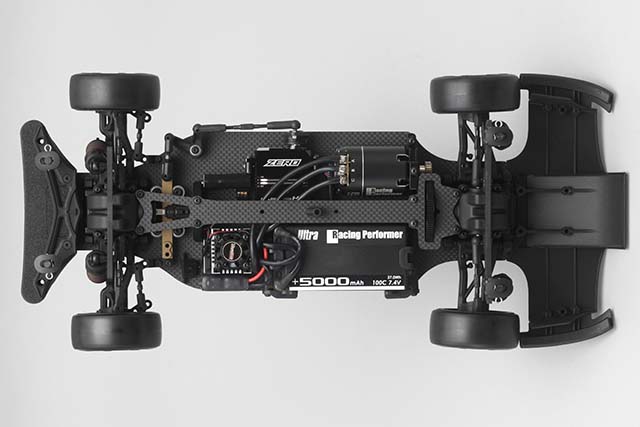 Parts List
▼スピードコントローラー / SPEED CONTROLERS
▼ステアリングサーボ / STEERING SERVOS
▼シャーシパーツ / CHASSIS PARTS
▼駆動系パーツ / DRIVE TRAIN PARTS
▼サスペンションパーツ / SUSPENSION PARTS
▼ボディ / BODIES
▼タイヤ / TIRES
▼ホイール / WHEELS
▼ギヤ / SPUR & PINION GEAR
▼ベアリング / BEARINGS
▼スクリュー / SCREWS
▼デカール / DECALS
▼ケミカル / CHEMICALS
▼工具 / TOOLS
▼収納ケース / BAG&BOX
▼その他 / OTHER