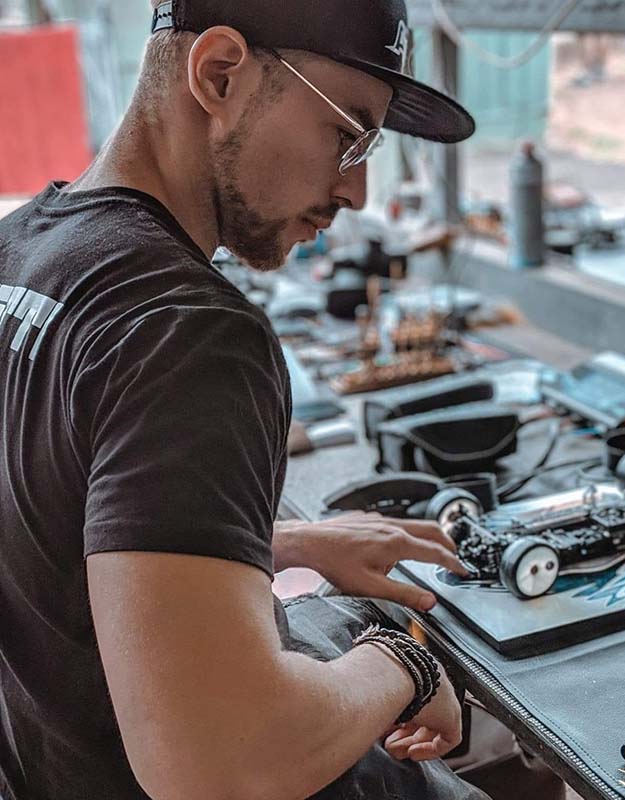 一覧に戻る
Antoni Caretti
Antoni Caretti
主な戦績
| | |
| --- | --- |
| 2009年 | Australian Nationals : Modified 1/12th – 2nd Place A Main |
| 2009年 | SA state titles : Modified 1/12th – TQ and 1st Place A Main |
| 2009年 | SA state titles : Touring Car– 3rd Place A Main 10.5T |
| 2009年 | Victorian state titles : Touring Car – 9th Place Modified A Main |
| 2009年 | Australian Nationals : Touring Car – 1st Place B Main Modified |
| 2010年 | Australian Nationals : Modified 1/12th – TQ and 1st Place |
| 2010年 | SA state Titles : Modified 1/12th – 4th Place A Main |
| 2010年 | Metro masters : Touring Car – 5th Place A Main Modified |
| 2010年 | Australian Nationals : Touring Car – 10th Place A Main Modified |
| 2010年 | South Australian Titles : Touring Car – 3rd Place A Main Modified |
| 2010年 | Victorian State Titles : Touring Car – 1st Place Modified B Main |
| 2010年 | Bendigo classic: Touring Car - TQ and 1st Place 10.5T A Main, 3rd Place A Main Modified |
| 2011年 | Mini Nationals : 1/10 Mini - Fastest lap & 13th Overall (Qualifying Results) |
| 2011年 | FEMCA ISTC : Modified 1/12th - 2nd Overall (Qualifying Results) |
| 2011年 | MMI Challenge : Touring Car - 2nd Place A Main Modified |
| 2011年 | South Australian State Titles : Touring Car - TQ and 3rd Place A Main Modified, 2nd Place A Main VTA |
| 2011年 | FEMCA ISTC : Touring Car - 14th Overall (Qualifying Results) |
| 2011年 | TITC : Touring Car - 9th Place B Main Modified, 8th Place B Main Open Brushless (11.5T) |
| 2011年 | Summernats : Touring Car - 8th Place A Main Modified |
| 2012年 | Australian Nationals : Modified 1/12th - TQ and 1st Place A Main |
| 2012年 | Australian Nationals : Touring Car - 5th Place A Main Modified |
| 2012年 | New South Wales State Titles : Touring Car - 5th Place A Main Modified |
| 2012年 | South Australian State Titles : Touring Car - 3rd Place A Main Modified |
| 2012年 | Muchmore Masters : Touring Car - 10th Overall (Qualifying Results) |
| 2012年 | Victorian State Titles : Touring Car - 5th Place A Main Modified |
| 2012年 | Thailand International Touring car Championship : Touring Car - 7th Place B Main Modified, 6th Place B Main Open Brushless (13.5T) |
| 2013年 | National Titles : Touring Car - TQ and 1st Place A Main Modified |
| 2013年 | NSW State Titles : Touring Car - 2nd Place A Main Modified |
| 2013年 | SA State Titles : Touring Car - TQ & 8th Place A Main Modified |
| 2013年 | AOC Melbourne : Touring Car - 4th Place A Main 13.5 Boosted, 1st Place B Main Modified |
| 2013年 | Thailand International Touring car Championship : Touring Car - 10th Place B Main Modified |
| 2013年 | Templestowe Village Community Bank Masters : Touring Car - 2nd Place A Main Modified |
| 2014年 | Australian Nationals : 1/10 Buggy - 3rd Place C Main 2wd Modified, 1st Place C Main Modified |
| 2014年 | Mildura Mallee Madness : 1/10 Buggy - 2nd Place A Main 4wd Modified, 8th Place A Main 2wd Modified |
| 2014年 | Bordertown Classic : 1/10 Buggy - 1st Place A Main 4wd Modified |
| 2014年 | 2014 International Indoor Championship USA : Touring Car - 8th Place A Main 13.5, 2nd Place B Main Modified |
| 2014年 | 2014 IFMAR World Titles USA : Touring Car - 3rd Place G Main (A lot of bad luck) |
| 2014年 | 2014 South Australian State Titles : Touring Car - 2nd Place A Main Modified |
| 2014年 | Asian Onroad Championship Melbourne : Touring Car - 1st place B Main Modified |
| 2014年 | Thailand International Touring car Championship : Touring Car - 3rd Place B Main Modified, Formula 1 - 12th Place A Main |
| 2014年 | Templestowe Village Community Bank Masters : Touring Car - 2nd Place A Main Modified |
| 2015年 | Offroaderfest Race : 1/10 Buggy - 2nd Place A Main 2wd Modified TQ and 2nd Place a Main 4wd Modified |
| 2015年 | Australian Nationals : Touring Car - 9th Place A Main Modified |
| 2015年 | South Australian State Titles : Touring Car - TQ & 4th Place A Main Modified |
| 2015年 | Asian Onroad Championship Adelaide : Touring Car - 6th Place A Main Modified |
| 2015年 | Victorian State Titles : Touring Car - 2nd Place A Main Modified |
| 2015年 | Thailand International Touring car Championship : Touring Car - 1st Place C Main Modified |
| 2015年 | Templestowe Village Community Bank Masters : Touring Car - 5th Place A Main Modified |
| 2016年 | ARCR XMAS Cup : 1/10 Buggy - 4th Place A Main 2wd Buggy Modified, 3rd Place A Main 4wd Buggy Modified |
| 2016年 | Offroaderfest ii : 1/10 Buggy - Tq and 1st Place A Main 2wd Buggy Modified, 2nd Place A Main 4wd Buggy Modified |
| 2016年 | Australian Nationals : Touring Car - 3rd Place A Main Modified |
| 2016年 | Bendigo Classic : Touring Car - TQ and 1st Place A Main Modified |
| 2016年 | IFMAR World Championships : Touring Car - 1st Place F Main |
| 2016年 | Asian Onroad Championship Round 2 : Touring Car - 1st Place A Main Modified, 1st Place A Main 13.5t Super Stock |
| 2016年 | Reedy Race : Touring Car - 24th Place Invitational Class |
| 2016年 | Victorian State Titles : Touring Car - 3rd Place A Main Modified |
| 2016年 | Templestowe Masters : Touring Car - 2nd Place A Main Modified |
| 2017年 | Mini Nationals : 1/10 Mini - 3rd Place A Main |
| 2017年 | South Australian State Titles : 1/10 Buggy - 3rd Place A Main 2wd buggy Modified, 5th Place A Main 4wd Buggy Modified |
| 2017年 | Australian Nationals : Touring Car - 5th place A Main Modified |
| 2017年 | Bendigo Classic : Touring Car - 2nd Place A Main Modified |
| 2017年 | Bendigo Classic Warmup Race : Touring Car - 2nd Place A Main Modified |
| 2017年 | ETS Round 6 : Touring Car - 2nd Place E Main Modified |
| 2017年 | ETS Round 5 : Touring Car - 8th Place F main Modified |
| 2017年 | Victorian State Titles : Touring Car - 4th Place A Main Modified |
| 2017年 | South Australian State Titles : Touring Car - 3rd Place A Main Modified |
| 2018年 | Australian Offroad Nationals : 1/10 Buggy - 7th Place A Main 2wd Modified, 4th Place A Main 4wd Modified, TQ and 1st Place A Main 13.5 4wd |
| 2018年 | Mildura Mallee Madness : 1/10 Buggy - 6th Place A Main 4wd modified, 1st Place B Main 2wd modified |
| 2018年 | Australian Nationals : Touring Car - 1st Place B Main Modified |
| 2018年 | Australian Touring Series Round 1 : Touring Car - 3rd Place A Main Modified |
| 2018年 | South Australian State Titles : Touring Car - 2nd Place A Main Modified |
| 2018年 | Asian Onroad Championship Round 3 : Touring Car - 6th Place A Main Modified, 2nd Place A main 13.5t Super Stock |
| 2018年 | Victorian State Titles : Touring Car - 4th Place A Main Modified |
| 2019年 | ARCR Offroaderfest iii : 1/10 Buggy - TQ and 1st Place A Main 2wd Modified, TQ and 1st Place A Main 4wd Modified |
| 2019年 | South Australian State Titles : 1/10 Buggy - 2nd Place A Main 2wd buggy Modified, 3rd Place A Main 4wd Buggy Modified |
| 2019年 | Australian Onroad Nationals : Touring Car - 2nd Place A Main Modified |
| 2019年 | Australian Touring Series Round 1 (Season 2) : Touring Car - 3rd Place A Main Modified |
| 2019年 | South Australian State Titles : Touring Car - TQ and 1st Place A Main Modified |
| 2019年 | Asian Onroad Championship Round 3 : Touring Car - 9th Place A Main Modified, 3rd Place A Main 13.5t Super Stock |
| 2019年 | Australian Touring Series Round 4 : Touring Car - 2rd Place A Main Modified, 2nd Overall Championship |
| 2019年 | Australian Touring Series Round 2 : Touring Car - 3rd Place A Main Modified |
| 2020年 | Xmas Cracker : 1/10 Buggy - 2nd Place A Main Modified 2wd Buggy, 3rd Place A Main Modified 4wd Buggy |
| 2020年 | ARCR Offroaderfest ix : 1/10 Buggy - 3rd Place A Main Modified 2wd Buggy, 2nd Place A Main Modified 4wd Buggy |
| 2020年 | RRCSA Wind it up cup : Touring Car - 3rd Place overall (Reedy race format) |
| 2021年 | Bunny Bash Easter Race : 1/10 Buggy - 3rd Place A Main Modified 2wd Buggy, TQ and 1st Place A Main Modified 4wd Buggy |
選手紹介
I started RC racing when I was 14, my first car was the was Team Yokomo BD Touring Car. I have now been driven for 11 years and learnt many things along the way. I compete in all major races in Australia, and a few international races every year.
RC Career Highlights:
Australian Nationals:
4 x National Champion
1 x Runner Up
14 x A Main
Australian State titles
2 x State Champion
6 x Runner Up State Champion
21 x A Main 
Australian Onroad Championships
2 x Winner
1 x Runner up
8 x A Main
 Australia Touring Series
1 x Runner up (Championship)
1 x Runner up
4 x A Main
 Intenational Events
Reedy Race Invitational – (24th)
IFMAR Worlds – Winner F main
TITC – 5 x B Main (13th Best), Winner C Main
ETS – Runner Up E Main
IIC International – 8th Place A Main
FEMCA International – Runner Up
自己PR
A little about myself:
I am a very knowledgeable racer with lots of experience across multiple classes in RC. I started racing when I was 14 years old with my father, but now do everything by myself. My main class is 1/10 EP Touring Car Modified, but also like to drive 1/10 Offroad. I am a very friendly and approachable person in the pits, and at the racetracks. I have many friends all over Australia, and the world that I talk to almost every day in RC! I have great rapport with helping new people coming into RC and will often put their car above mine, to make sure they are getting their best results possible. I take pride in presentation and this means my pit bench and cars are always looking amazing!

I have often travelled to multiple interstate and some international events over my RC Career, gathering so much information and experience which has helped me along the way. I always seem to learn something new even until this day! This is an important reason to travel and maximise my knowledge. Hopefully COVID restrictions will mean its easier and safer to travel to all events again soon.

I have recently purchased my first house with my partner, which is located less than 5 minutes from my local track! I can't wait to move in there in early 2022 when the build in completed.