RACE REPORT
Jan.18,2019
RACE REPORT レース報告
メイフィールド選手が4WDクラスを制す!2019年シーズンの幕開けとなる第32回CRCRC選手権
Yokomo's Ryan Maifield Wins 4wd Modified Buggy & 4wd Dash for Cash at 32nd Annual CRCRC in Ohio!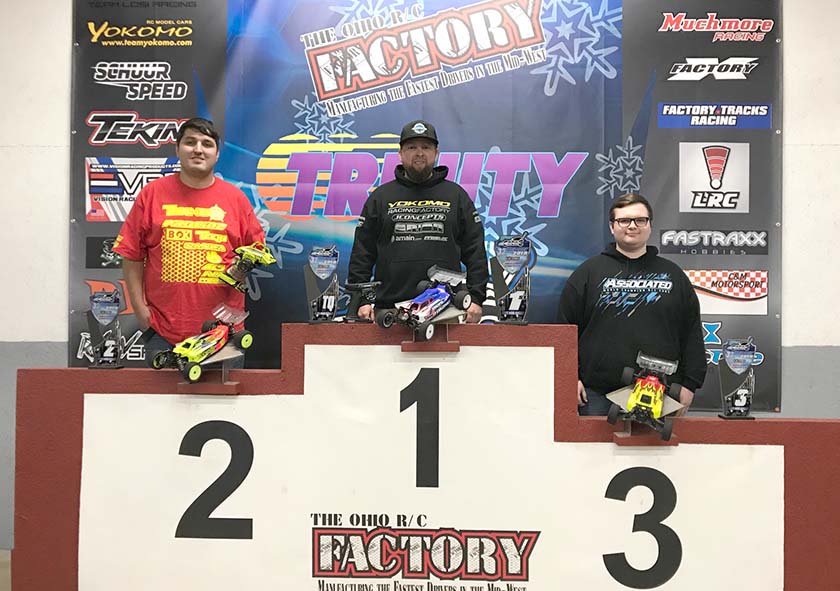 オハイオ州コロンバスから1時間南西に下った小都市ジェファーソンビルにて、オフロードレース界2019年シーズンの幕開けとなる第32回CRCRCウインター・ミッドウェスト選手権が開催されました。
ヨコモからは、ライアン・メイフィールド、ライアン・キャバラリ、足立伸之介、JPリチャーズ、マックス・フルーラー, そして米国チームマネージャのジョー・ピラーズのメンバーが参戦しました。
レースは総勢283名のレーサーエントリーを得て素晴らしいレースが繰り広げられました。
2019 would mark the 32nd annual running of CRCRC's Winter Midwest Championships in Ohio. Located just 1-hour southwest of Columbus in the small town of Jeffersonville, The Ohio RC Factory would bring in many of the top US drivers from around the country to battle it out at the first big race of the year.
Yokomo would once again support CRCRC's race by sending a strong team consisting of: Ryan Maifield, Ryan Cavalieri, Shin Adachi, JP Richards, Max Flurer, & USA Team Manager Joe Pillars. 
With 283 total race entries, it was going to be a great weekend of racing!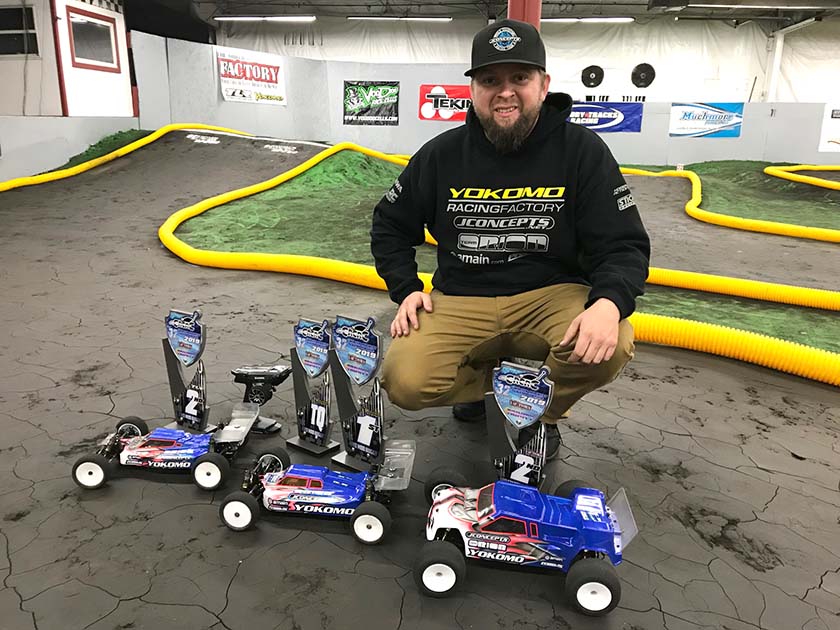 群雄割拠、競合ひしめく4WDモディファイドクラスにて、YZ-4SFをドライブするメイフィールド選手が素晴らしい走りを魅せつけてTQを獲得。
さらにファイナルにおいても全ラップをリードし、Aメインラウンド1・2ともにトップゴールを決めて完全優勝を果たしました!
In the highly contested 4wd Modified Buggy class, Yokomo's Ryan Maifield would show impressive speed to take the overall TQ honors with his YZ-4 SF!
 Maifield then made quick work of his competition by Winning A-Main #1 and A-Main #2, while leading every lap to take the 4wd Modified Buggy Championship!
Congratulations to our entire Yokomo USA Race Team on these great A-Main Results:
Ryan Maifield – 4wd Modified Buggy – TQ & 1st Place
Ryan Maifield – 2wd Modified Buggy – 2nd Place
Ryan Maifield – Modified Stadium Truck – 2nd Place
Ryan Maifield – 4wd Modfied Buggy Dash for Cash Race – 1st Place
Ryan Cavalieri – 2wd Modified Buggy – 4th Place
Ryan Cavalieri – Modified Stadium Truck – 5th Place
Ryan Cavalieri – 4wd Modified Buggy – 6th Place
Ryan Cavalieri – 2wd Modified Buggy Dash for Cash Race – 3rd Place
Brian Dunbar – 40+ 2wd Modified Buggy – 3rd Place
JP Richards – Modified Stadium Truck – 7th Place
Max Flurer – Modified Stadium Truck – 8th Place
Reid McMichael – 13.5 Stadium Truck – 7th Place
Tom Postalwait – 13.5 Stadium Truck – 9th Place
Ryan Millington – 13.5 4wd Buggy – 11th Place