YZ-114 PLUS AC/DC 急速充放電器
YZ-114 PLUS AC/DC Charger/Discharger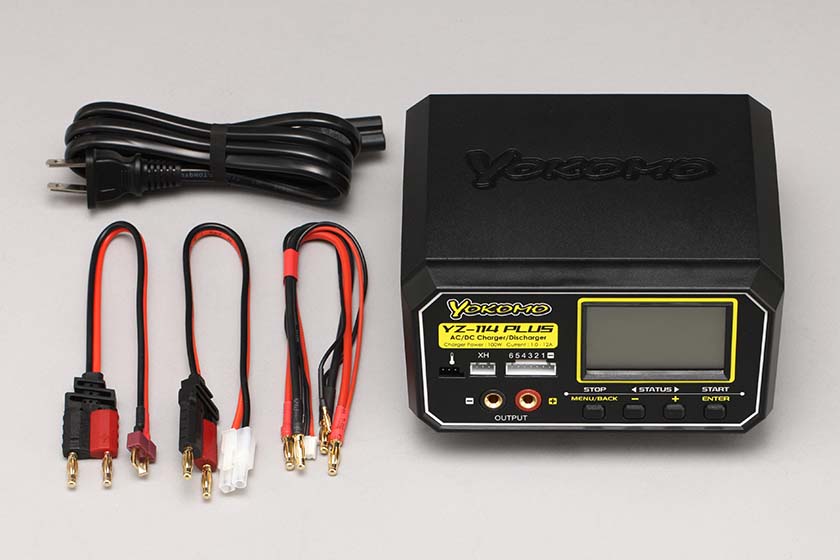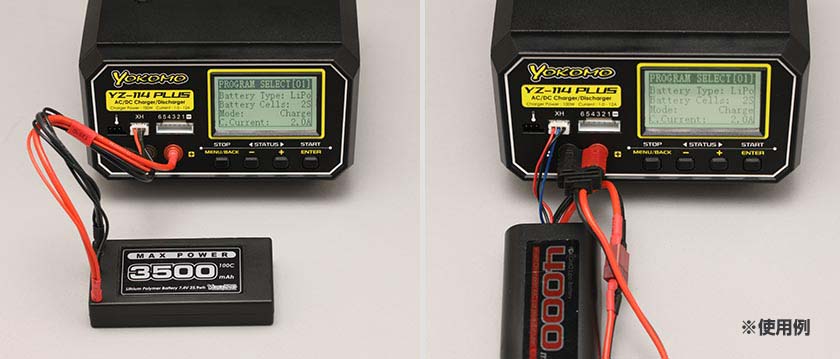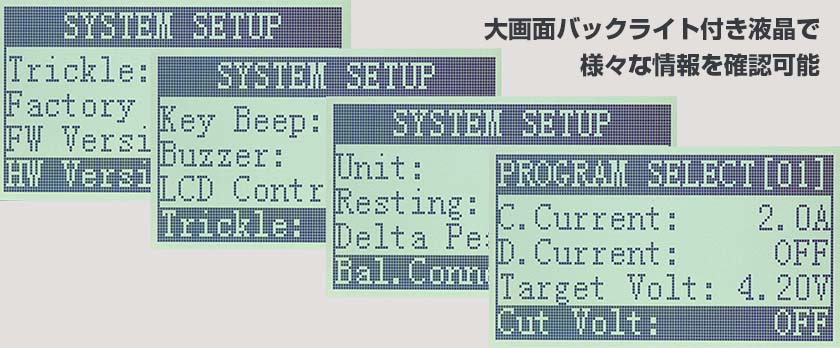 入門者からエキスパートまで、使いやすい性能とリーズナブルな価格で大人気のYZ-114PLUSがモデルチェンジして新登場!
ブラックを基調とした精悍な筐体に大画面液晶を搭載し、ピットテーブルをクールに演出します。 充電性能も大幅にスペックアップし、大電流12Aの充電が可能になりました。出力合計電流となりますが、USB出力でスマートフォン充電に2.1Aを使っている状態でも、10Aの走行用バッテリー充電を確保することができ、レースレベルでも余裕で対応可能です。
これまでと同様にLi-po/Li-fe/Li-ion/Li-HV・1~6セル、Ni-MH/Ni-cd・1~15セルとラジコンカー用として使用されているバッテリーには全対応、充電モードも多様でどんな状況にも対応できます。バッテリーを保管する際にもある程度の電圧まで下げるための放電機能や、一定量の充電を行うストレージモードなど、バッテリーマネージメントにも最適な機能を搭載しています。
SPEC
■ 入力電圧:AC100~240V、またはDC11~18V
■ 充電電流:0.1~6.0A
■ 最大充電電流:4.35V/セル
■ 放電電流:0.1~5.0A
■ 対応バッテリー:Li-po/Li-fe/Li-ion/Li-HV・1~6セル Ni-MH/Ni-cd・1~15セル
■ 出力ポート:充電(バナナプラグタイプ)、USB 5.0V/2.1A
■ 充電モード:Li-po/Li-fe/Li-ion/Li-HV【チャージ、バランスチャージ、ディスチャージ、ファストチャージ、ストレージ】 Ni-MH/Ni-cd【チャージ、オートチャージ、サイクル、リピーク、ディスチャージ】
■ 安全機能:自動充電電流制限、バッテリー電圧監視、内部抵抗メーター、容量制限、温度制限、充電時間制限
付属品
● AC入力コード
● ヨーロピアンコネクター充電コード
● 7.2Vタイプ 充電コード
● T型プラグ 充電コード
使用方法解説動画 Basic Explanation Movie
https://youtu.be/GjEL-DZi_60
取扱説明書
https://teamyokomo.com/downloadfiles/!02!MANUAL/!02!ELECTRONICS/YZ-114PLUS_N_manual.pdf
As a good choice for from beginners to experts, the YZ-114PLUS charger is a very popular item with its easy-to-use performance and reasonable price.
Equipped with a large LCD in its dignified black body, it will be a nice partner to show off the coolness of your pit table.
It has not only the wonderful charging performance, but also good cost performance, and besides, it can charge a large current up to 12A.
It is available for following batteries: Li-po / Li-fe / Li-ion / Li-HV 1-6 cells, Ni-MH / Ni-cd 1-15 cells, and all the batteries used for RC cars use.
It has extensive charging modes to allow you handle in any situation.
If focusing on the total output current, while charging the smartphone by USB with the output of 2.1A, you can still get 10A to charge your racing battery and you can gain leeway to deal with your race.
It is also equipped with functions excellent in battery managing, such as a discharge function of lowering the voltage to a certain level when storing the battery, and storage mode function of charging batteries to a certain amount, etc.
SPEC
■ Input voltage:AC100~240V、or DC11~18V
■ Charge current :0.1~12.0A
■ Max charge current:4.35V/cell
■ Discharge current:0.1~5.0A
■ Battery type:Li-po/Li-fe/Li-ion/Li-HV・1~6cell Ni-MH/Ni-cd・1~15cell
■ Output port:Charge(Euro plug type)、USB 5.0V/2.1A
■ Charge mode:Li-po/Li-fe/Li-ion/Li-HV【Charge.Balance charge,Discharge,Fast charge,Storage】 Ni-MH/Ni-cd【Charge,Auto charge,Cycle,Re-peak,Discharge】
■ Safety features: Automatic charging current limit, Battery voltage monitoring, Internal resistance meter, Capacity limit, Temperature limit, Charge time limit